This is a double post today. Yay! Two for the price of one!
Warnings:
Some swearing?
Last time:
After taking forever to get pregnant Fern popped out twins. Extra long baking time, I suppose. Both boys and named Kashta and Kaseri. When last seen the boys had just aged into toddlers with Kashta looking downright cross-eyed!
Fern maxed her creativity. Garrett continued to chase most of the neighbors away with all his grilled cheese talk. All Except Jomeo Carr who kept showing up without being invited despite the fact that he can't stand talk about grilled cheese or Fern.
A note: This was the first house I played after finally getting a new computer. I was finally able to add the last two EPs to my game (my other computer threatened to implode if I tried running one of them) so I finally have Bon Voyage and Apartment Life added to my game. Also, I was going crazy because I could actually see DETAILS! OMG, the textures, the designs I hadn't been able to see anymore! So no more fuzzy outlines or shirts that can't be read! It does mean I had to go hunt up a lot of my CC again to download so clothing and hairstyles were misplaced or gone.
And that explains why, when I opened this lot, I found this:
Fern starts her day with an omelet, flies, a different hairstyle and an ugly dress.
Kashta's awake!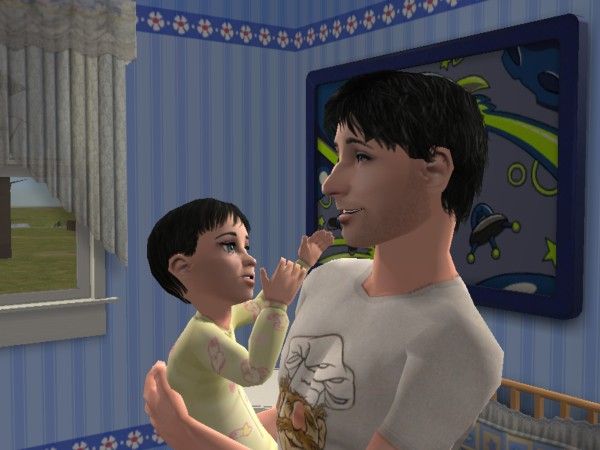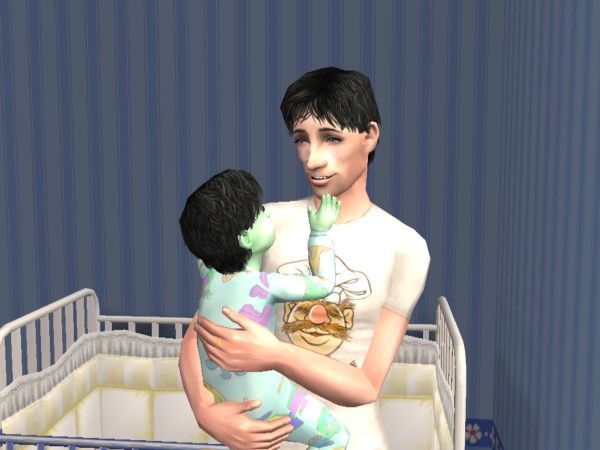 Dad willingly gets both boys out of their cribs. Kashta has the light skintone and Kaseri has the green skintone. Let's see if I can do the whole update without mixing them up.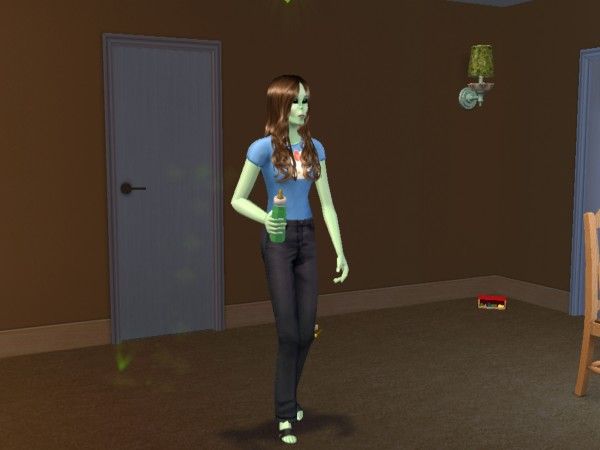 I'll let her keep the hair but that dress had to go.
Kashta is very impatient! Give you mother a chance she's coming!
Kashta: "Wanna eat NOW! NOW!"
"NO..oh, good."
Garrett potty trains the other twin.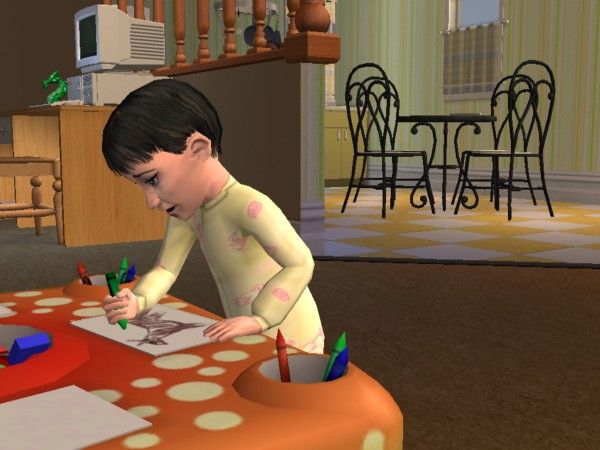 Since I finally got Apart.Life, I was finally able to use some of this stuff like the toddler table.
Kashta is the first to use it.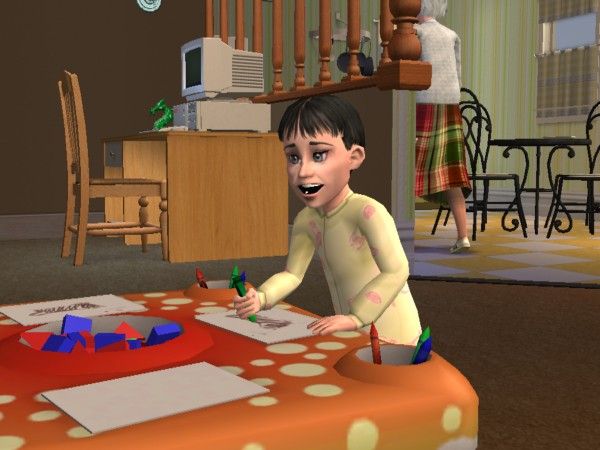 That's a lovely "brown" scribble he's doing there...with a "green" crayon.
Kaseri tried it out, too.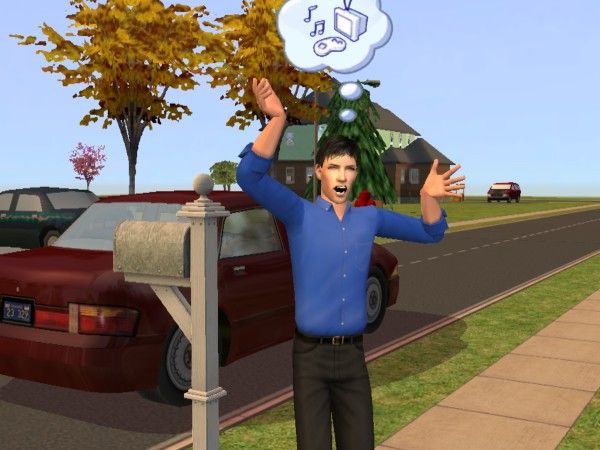 Garrett comes home with a promotion and a tanked fun level. They probably won't let him talk about grilled cheese while he's at work.
I just Love this interaction!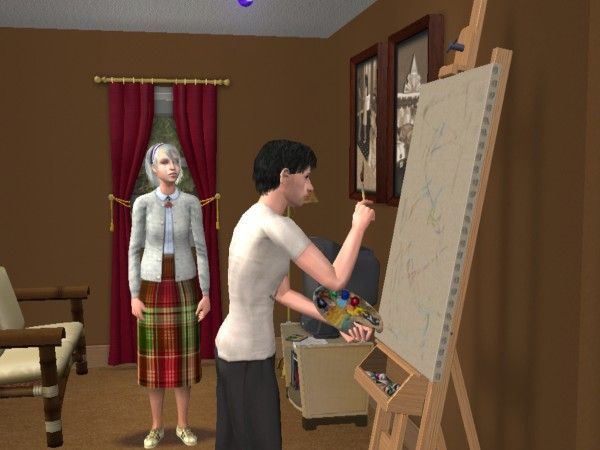 Fern is at work and the twins are sleeping so Garrett takes some time out to paint and the nanny makes her move on Garrett. Last time she was staring holes into him.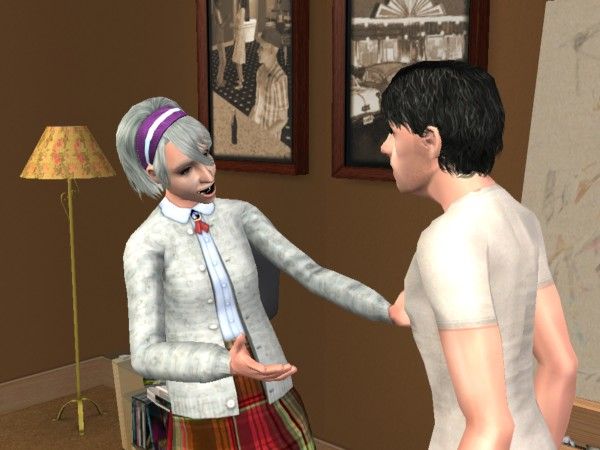 Nanny: "I really admire your work there, sir. The colors are so rich."
Garrett: "Huh? What?"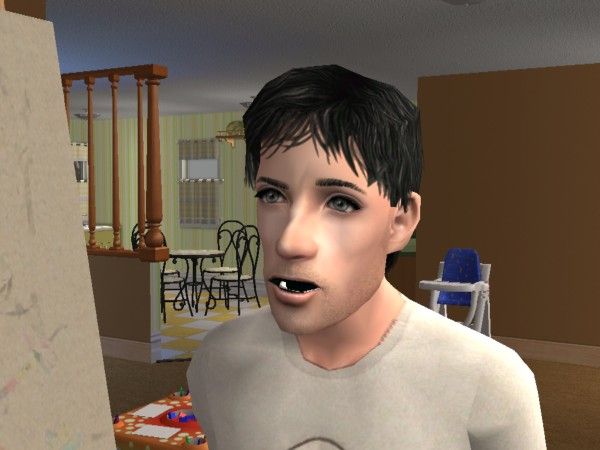 "Duh?"
Obviously the nanny has confused Garrett something terrible. (Best 'Durr' face, ever!)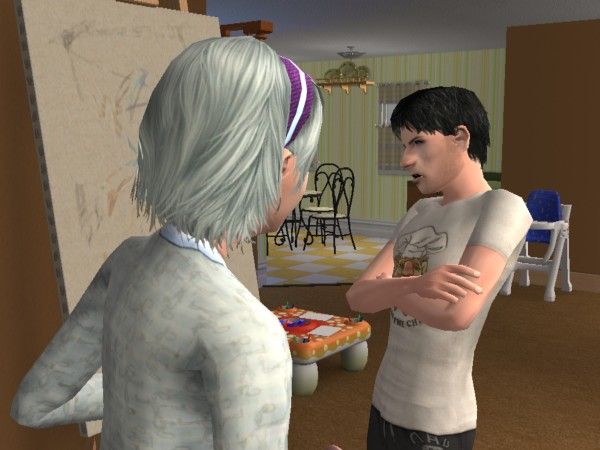 Garrett: "What are you talking about, woman? I've barely even started! You have no idea what it is yet!"
Garrett was not impressed by the nanny's advances.
However, she is willing to listen to him go on and on about Grilled Cheese. She was even willing to sit down with him and eat some for lunch.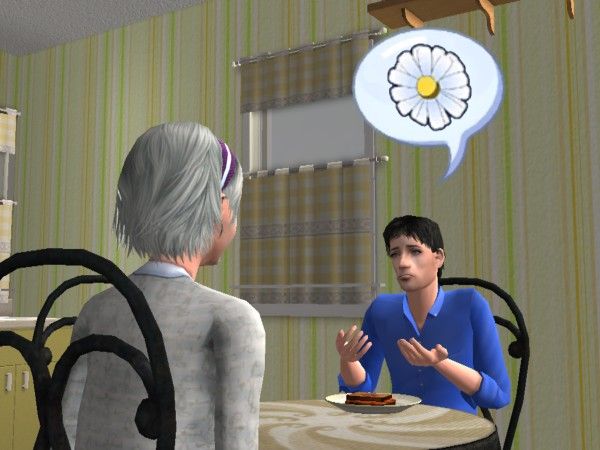 Garrett: "All your flowery prose does not change my opinion of you, you know. I think it's very disgraceful, a person like you, charged with looking after someones children, should try to hit on me, a man with a wife and family!"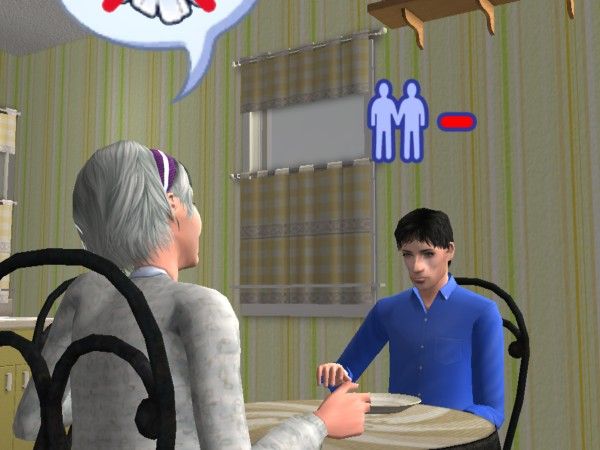 "You should be ashamed of yourself!"
*minus*
Of course after a speech like that that's when Fern comes home with Hamlet Brown in tow and of course all the heart farting that follows a romance sim!
Fern: "...and the nurse says, 'well, if this is my thermometer, where did I leave my pen!'"
Oh, and here come the mooch, Jomeo Carr again. No, by all means, come on in!
Hamlet: "Oh, that joke is so funny! A-HA-HA-HA-HA-HA-HA!"
Oh, come on, Hamlet, it wasn't that good a joke and it's older than the hills to boot!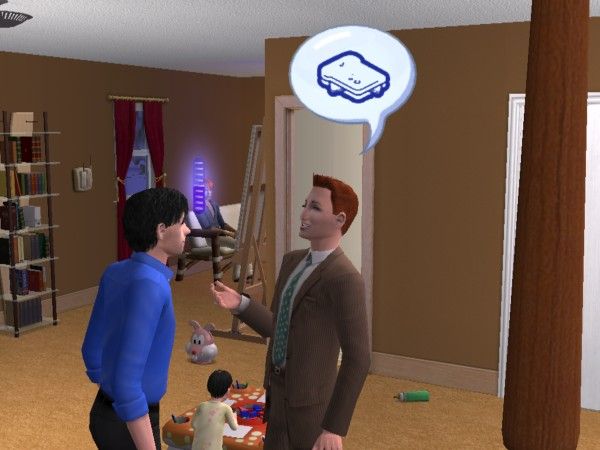 Surprisingly, Hamlet is more than willing to listen to Garrett talk about Grilled Cheese also.
Wow, two people in one day, Garrett must be on cloud nine.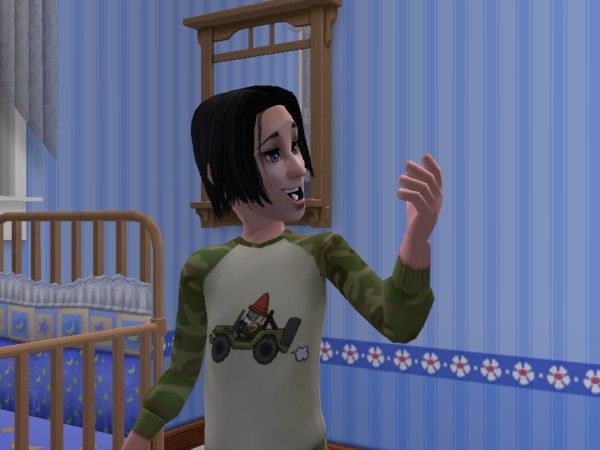 The boys aged up! Kashta is first.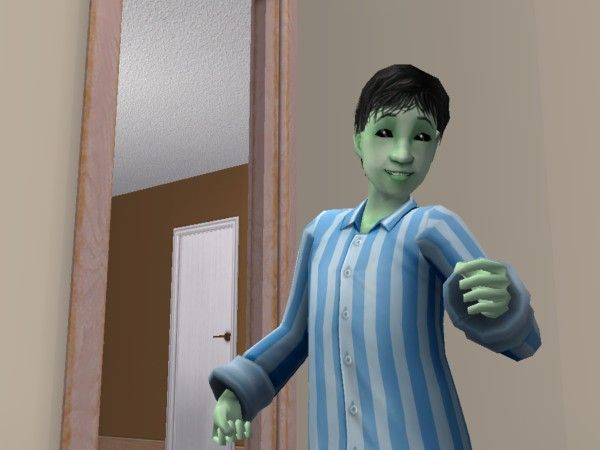 Followed by Kaseri.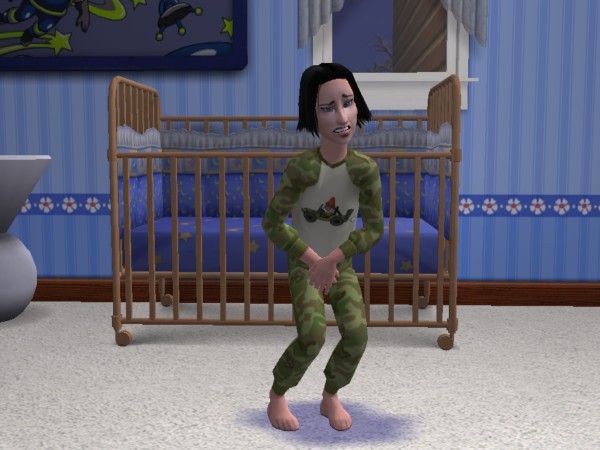 Kashta's first order of business is finding a bathroom right now!
Kaseri in his blue pajamas, in his blue room, with his new blue bed.
Kashta after a change of hairstyle and clothes. He still looks cross-eyed so he got glasses. He just had to! :)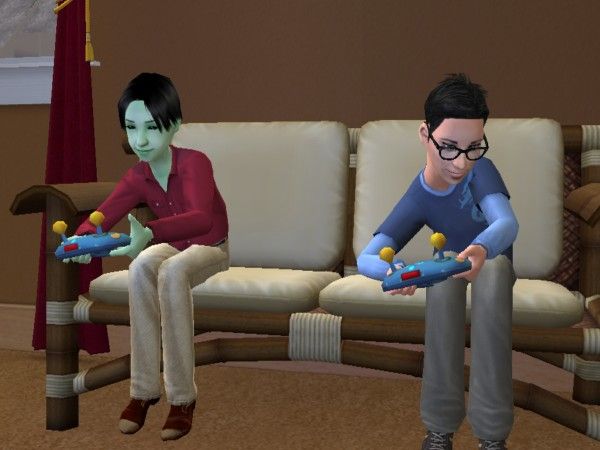 All four sims in this house have a OTH of Games. Great! My first family playing with A.L. and they all have the same hobby. I think the game console's going to get a workout.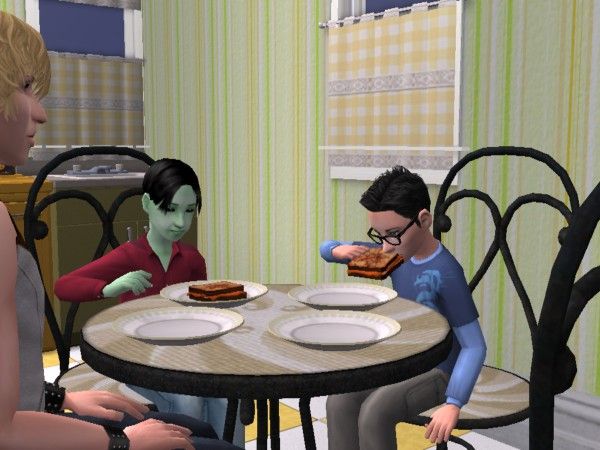 Their first meal of real food? Why, grilled cheese? What else?
Of course, all the grilled cheese does lead to other problems...
As soon as the boys come home from school this is where they head.
Garrett, ever the loving father, helps his son with his homework. He'll get to Kashta next.
Then, after the kids are settled for the evening, the parents get to play a little one-on-one.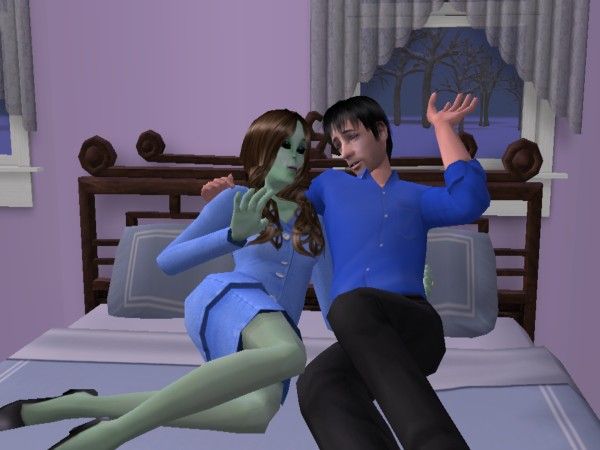 And a few hours later they decide to engage in a slightly different kind of one-on-one.
Garrett: "Could you excuse us, please? We're about to get very busy. Leave now!"
Sorry, visiting old dude, but, this is not a good time to try to talk to anyone through the teddy bear.
Come to think of it, there's never a good time to talk to anyone through the teddy bear!
The next morning Kaseri decided he wanted to tease his brother.
Kaseri: "Ha, Ha! Your eyes are crooked and you have to wear glasses!"
Kashta: "Wha...Hey! That's not nice!"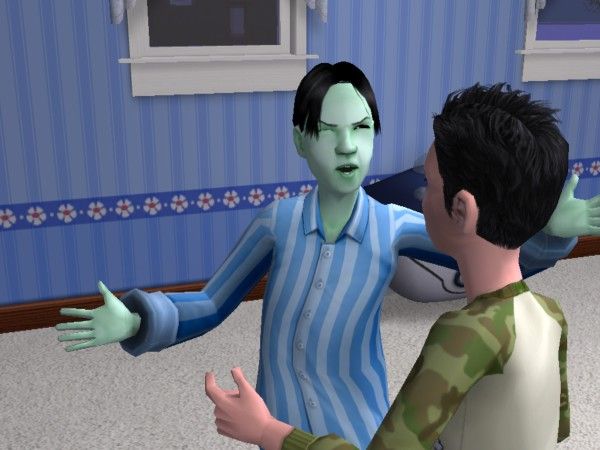 Kashta: "Dad would tell you that's not very nice to say. Besides, I'm your brother. We should get a long."
Kaseri: "Because we're brothers we have to get along? What makes you say that? Why would you believe that?"
Kashta: "Because I'm your twin and I know you."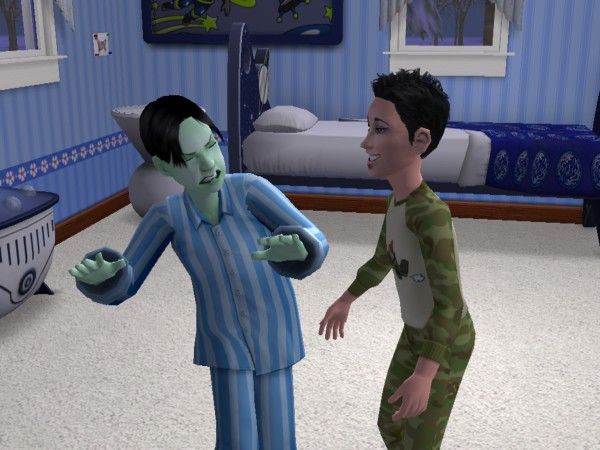 Kashta: "Now, give me a great big brotherly hug!"
Kaseri: "Eeeeewwwww! Heck no!"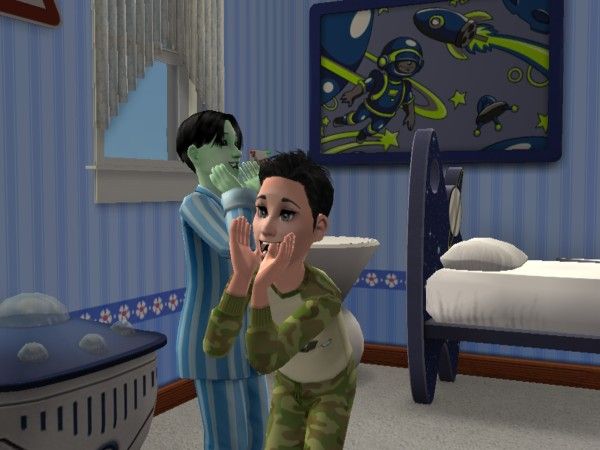 Radio announcer: "And this bulletin just in... due to the heavy snowfall yesterday the Ferrisport school is closed today.
You heard right, no school today, it's a snow day."
Both boys: "YAY! Alright!"
And so ended the brief strife between these two.
Well, if they've got a snow day they shouldn't waste it. Kaseri built a snowman.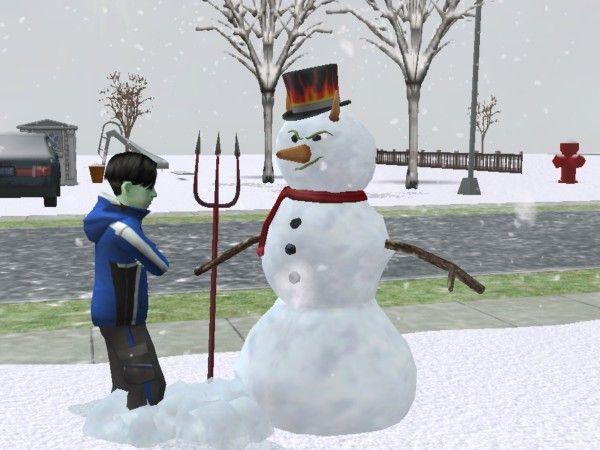 An evil snowman!
>:D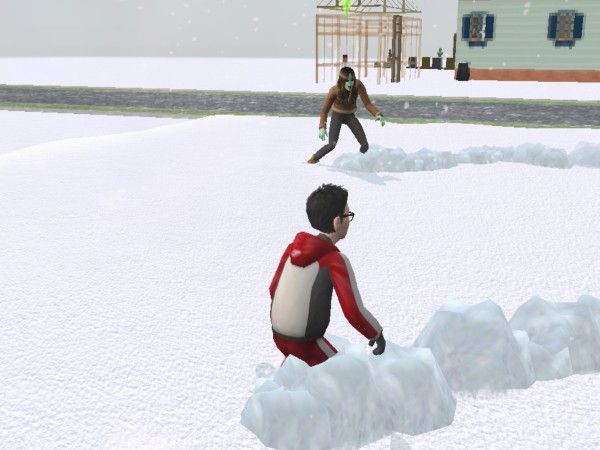 Kashta had a snowball fight with Fern.
"Whoa!"
"Ooff!"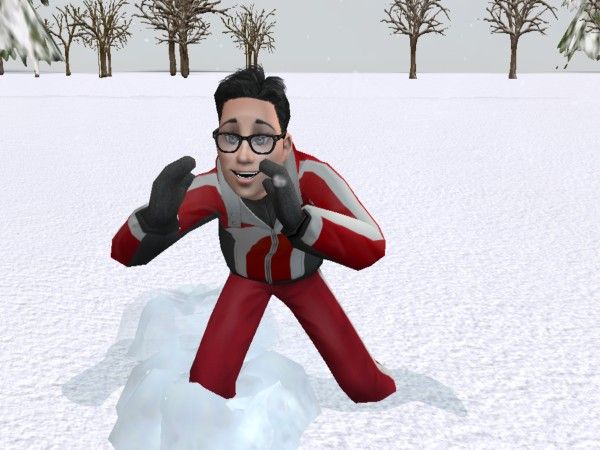 Kashta: "Gotcha, Mom! I'm too fast for you! You better watch out! I'll bean ya with another one! Betcha ya can't get me!"
BLOOF!
Fern: "You gotta be faster with your feet and not your lips, son!"
Garrett came home from work and joined in the fun.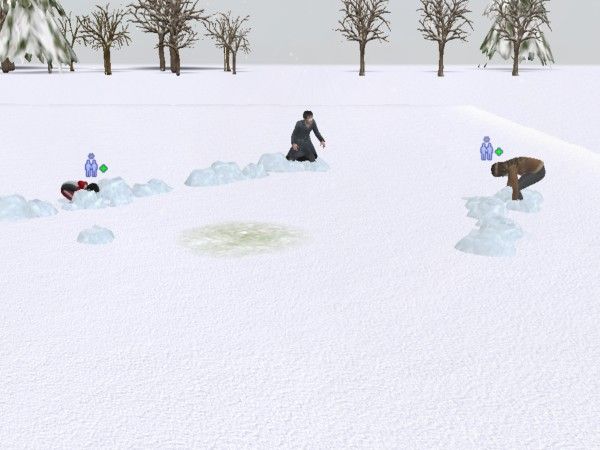 For one, brief, glorious moment, I actually had the whole family out there engaged in the snowball fight.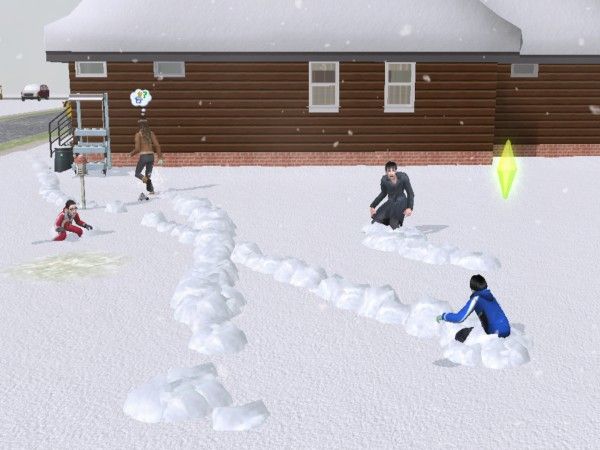 That is, until Fern made a mad dash for the house with this over her head.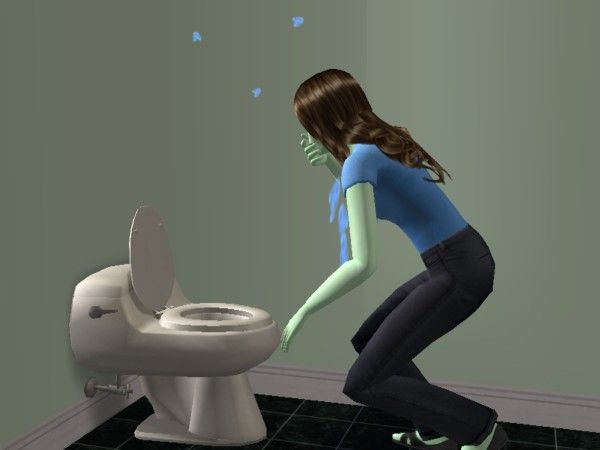 Guess she didn't take that long to get pregnant the second time as the first.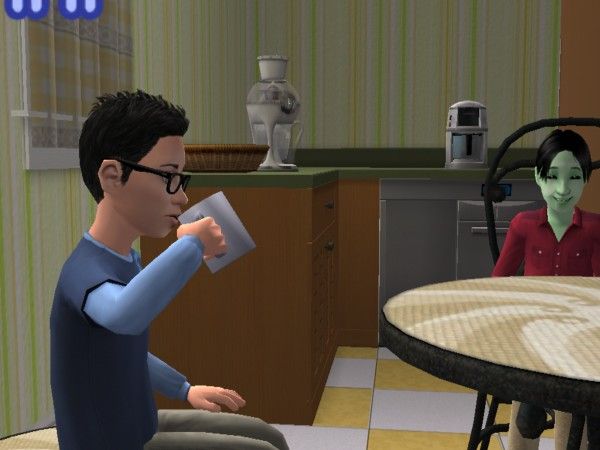 Nothing beats a hot cup of chocolate after running around in the snow all afternoon.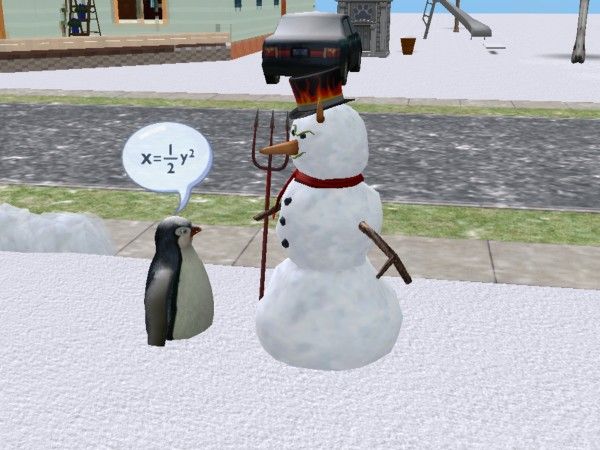 Penguin: "You don't know math? How is it you don't know math? Everyone should have the basics at the very least!"
Snowman: "Because I'm a damned snowman you idiot!"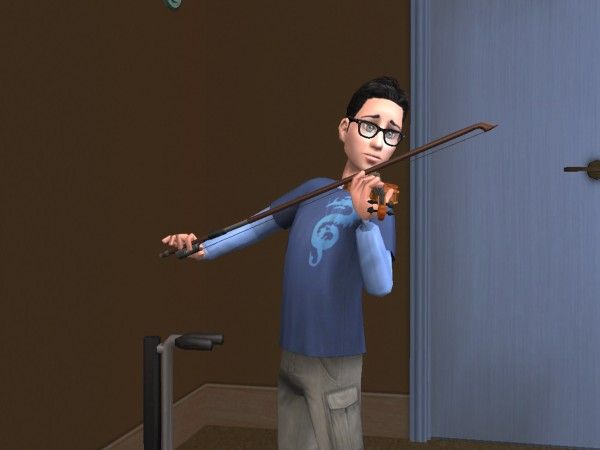 Games may be his OTH but I think music might be his true love. Kashta is always playing the violin.
Looks like a sibling is definitely on the way! That means next time I'll have to do some remodeling.
Last time:
Gooseberry had a boy named Faben who was a child by the end of the update and Malek was born.
The nanny tried to wrench Faben from his Mother's arms and caused an interesting glitch.
A second dog was purchased and his name was Moody. He an Roxy were encouraged to give me Puppies!
At the end of the update Roxy was pregnant.
Faben spends his time playing in the puddles. Nice. Especially since I think that's a piss puddle and not a rain one.
Jackpot! I has Puppies!
Roxy gave me not my usual one or two but Four puppies! And they proved impossible to all get in one shot!
She had two boys, Angst and Cyber, and two girls, Ruby and Bella.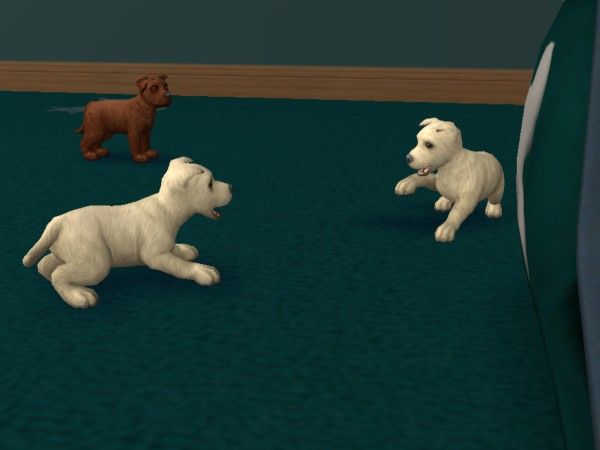 Really, I tried so hard to get a picture of all of them at once but the most I could get was three. Someone was always just out of shot or somewhere else completely. Two are brown and two are white.
Of course, where there are puppies, there are sims playing with them!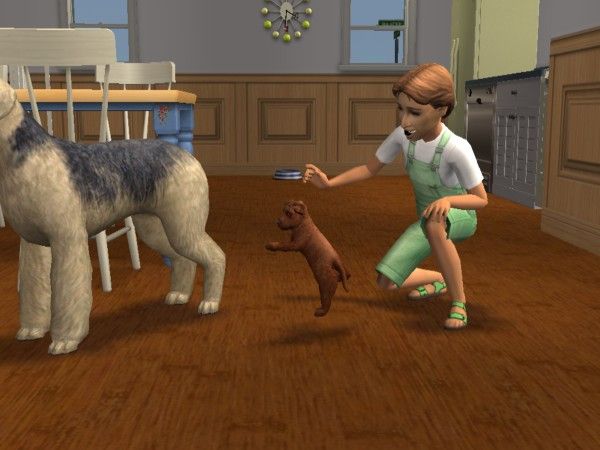 Everybody loves the puppies! Even grumpy Ethan can't find something to grumble about with a puppy in his hands.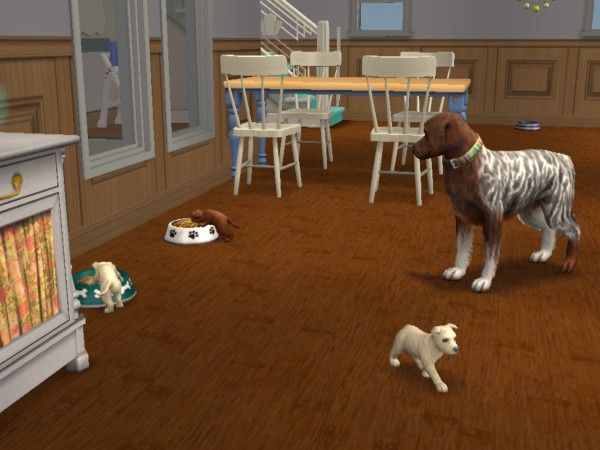 Roxy finds it difficult to keep up with her brood. As I said, they're never all in the same place at one time.
And then Gooseberry heads off to work with one of the pups in her hand.
I don't think that's a really good way to carry a puppy, Goose! Please put him down!
Ethan entertains the pups by dancing for them.
Gooseberry returns home: "Yay! Puppies"
Goose invited her father, Clay, over so he could meet his grandchildren. I think it's been awhile since he last saw Gooseberry or her family.
And, of course, he made a beeline for his very stinky and ready to transform grandchild, Malek.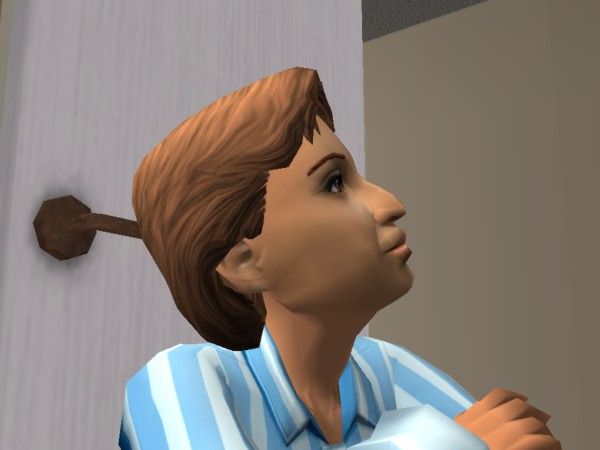 I'm not sure if Faben has his father's nose or if he got Grandpa Clays nose.
Puppies start growing up all over the place! This is Ruby. She looks a lot like her father.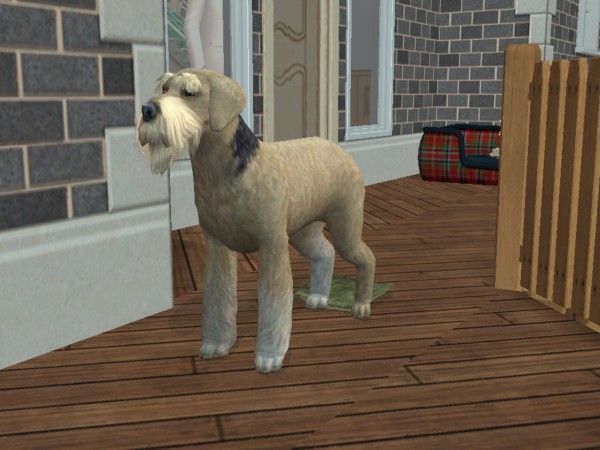 This is Bella and she looks just like Ruby except for the fact she has one white leg.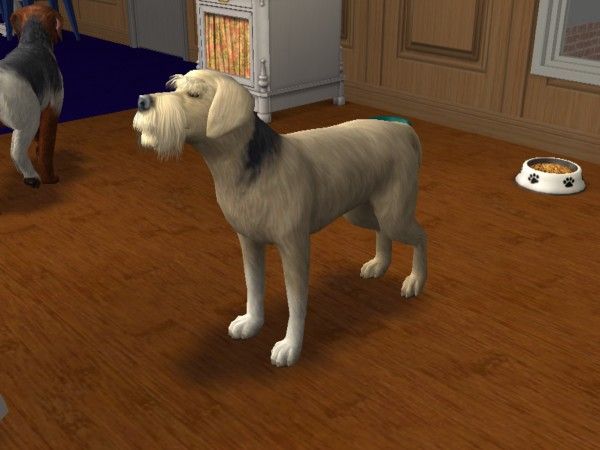 And Angst. I'm sensing a very strong pattern here. :(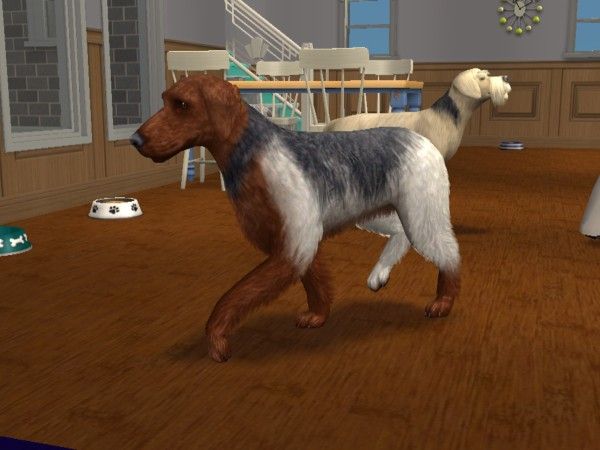 Last was Cypber who harkens back to Lyra's marking somewhat.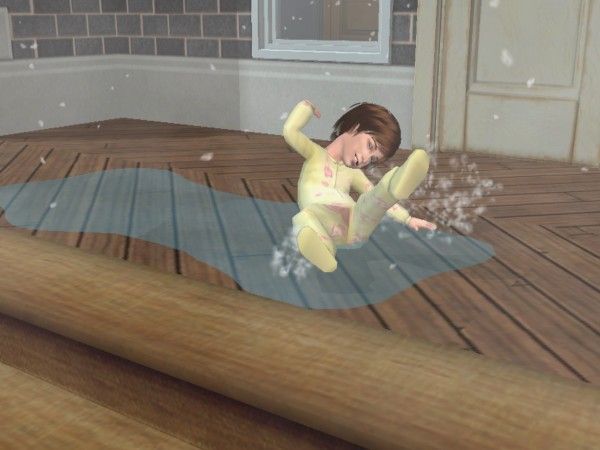 I can not say how much I love nannies who ignore the toddlers and let them play in puddles of piss. Outside. In the snow.
>:(
This is Malek as a toddler, by the way. I seem to have misplaced a transition picture.
He is a Taurus, stats 10-7-6-10-1.
I'm willing to bet he got that one nice point from his father!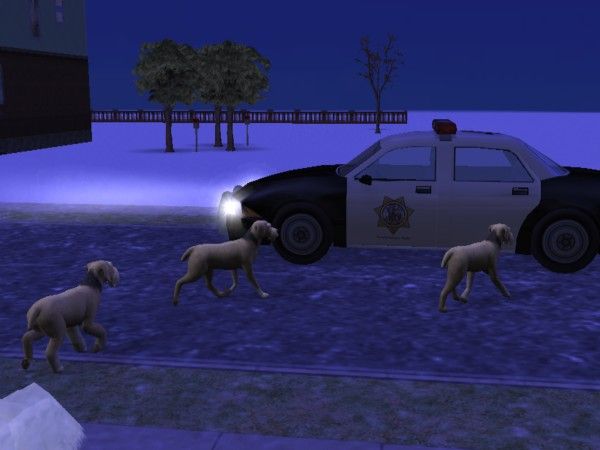 I'll end this very short update with three of the dogs leaving for the pound. the family are keeping Cyber, the only one with a little variation. I was hoping to see more of Roxy's coloring in them but alas, it's not to be.
Thanks for reading!