Gen.1.5
Warnings:
Insanity, stupidity, swearing, and pedo-sims.
Welcome back!
Last time:
The nanny tortured me and my toddlers.
Brekke and Menolly transitioned into childhood well.
Everybody loves Everybody! Everybody Loves to Smustle!
F'lar and F'nor became well adjusted teens.
The nanny tried to poison the family with bad food but her attempt failed.
Kent set the kitchen on fire and everybody thinks Menolly Smells Bad!
If they aren't eating or sleeping they're smustling. Morning, noon and night!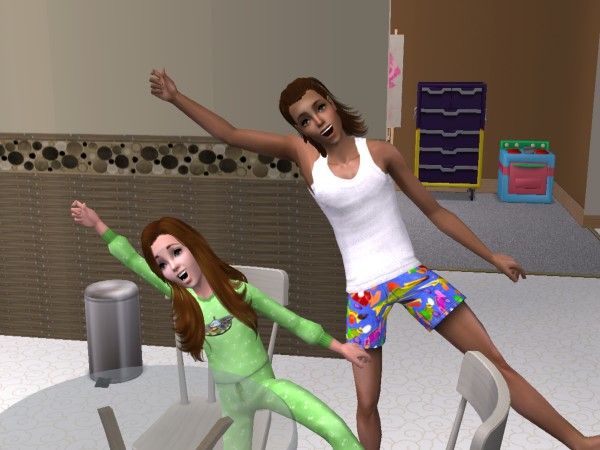 F'lar and Brekke: 'Yeah!"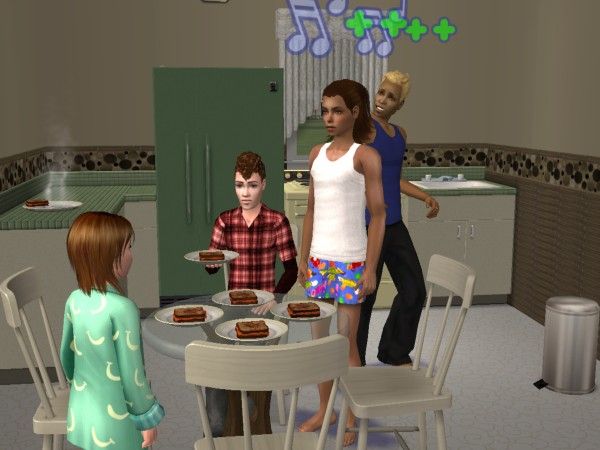 The call to breakfast breaks up the smustlefest.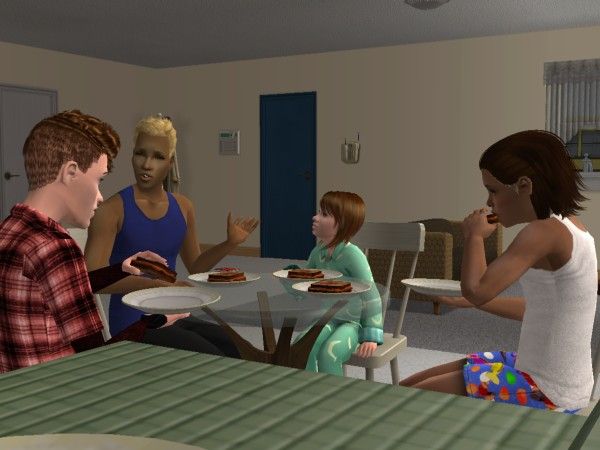 Kent imparts some fatherly wisdom on his children.
"Remember, just because you're paranoid doesn't mean they aren't out to get you! You never know what's sneaking up behind you."
Being an ISBI spouse is really starting to get to you, isn't it, Kent?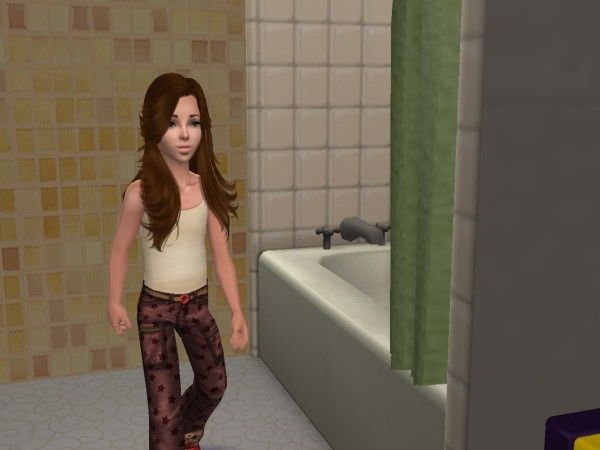 The school bus came and the boys got on alright but Brekke, like her brother F'nor before her, thought this an excellent time to take a bath.
And Menolly went to bed after being awake all night long.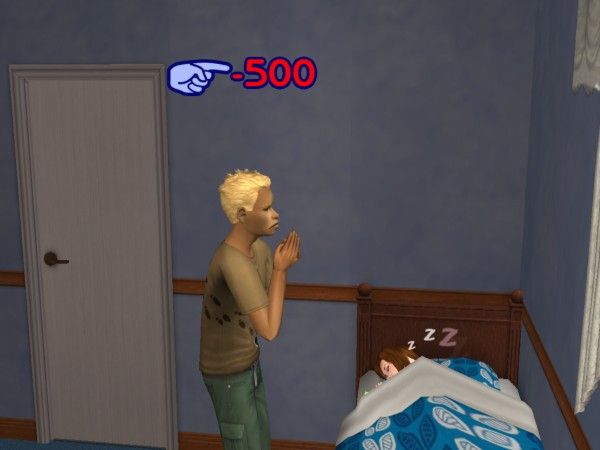 Gloria was at work, everything was quiet and then suddenly I hear Kent burst out crying! I find him in the bedroom with an ominous -500 floating over his head. What?...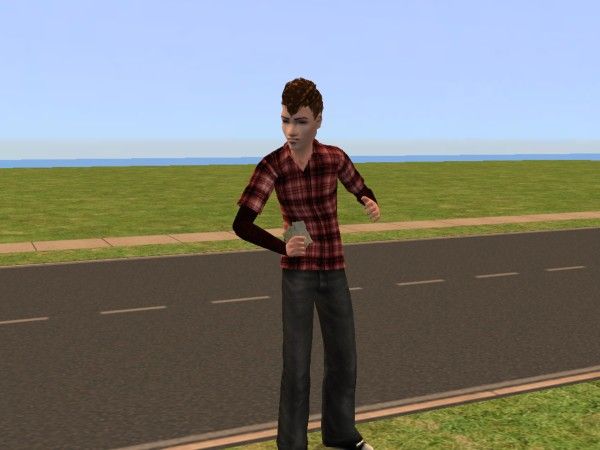 And then the boys got home from school and I get the message that F'nor's grades are in the toilet.
Kent must have had a fear about this.
*F'nor stomps offending report card into the ground*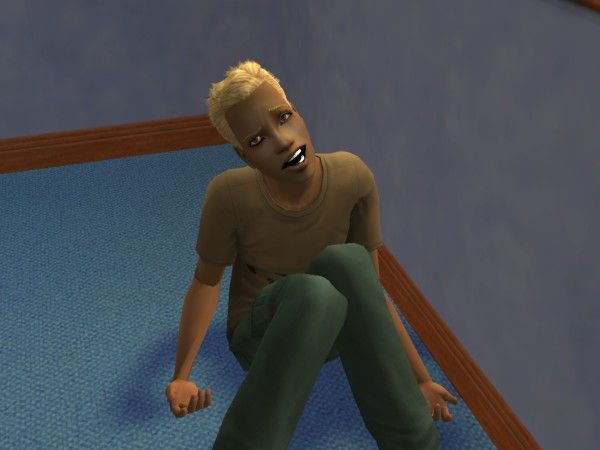 And Kent loses his mind!
:(
Cluck Like A Chicken! B'wak, B'wak, B'wak!
F'nor:"Dad? Who are you talking to? Dad?"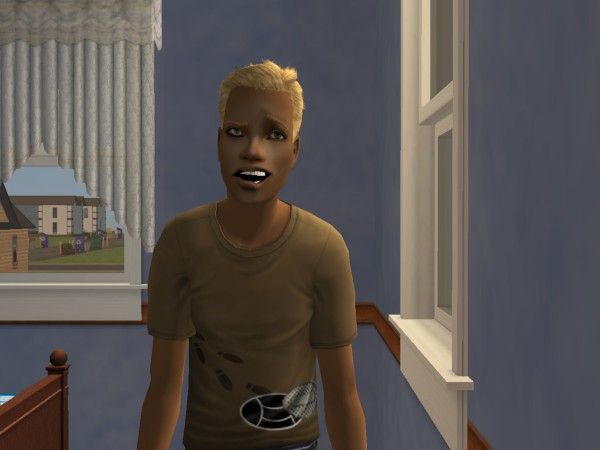 "Out of my mind. Be back in 5."
Five what? Minutes? Hours? Days??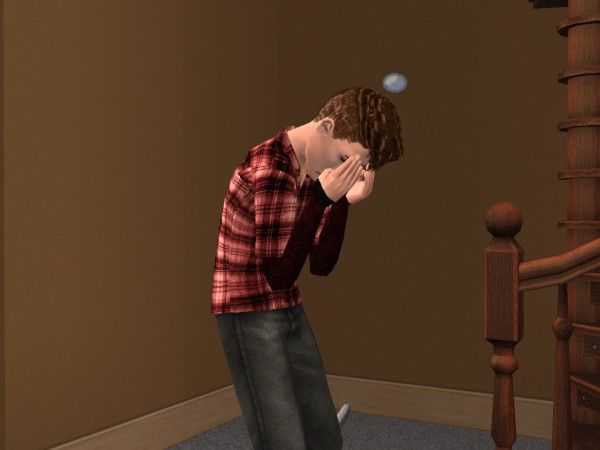 F'nor: "Bwaaah! My grades suck and I think I drove dad crazy!"
Not completely, dear. You just gave him that last little push that sent him over the edge.
Bwaaah!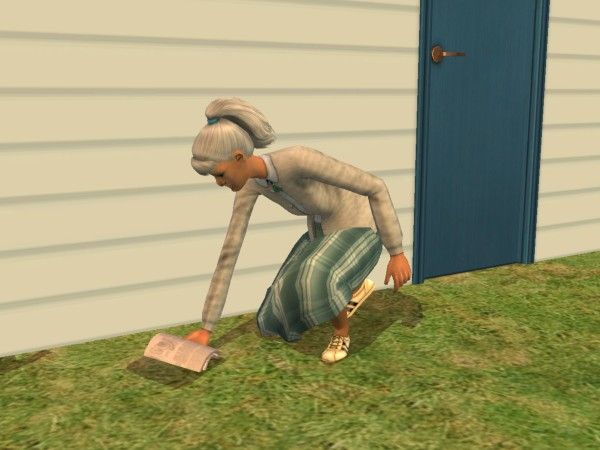 What the...who the hell are you? Gloria sent the nanny packing as soon as the girls became children! We don't need no nanny! What is it with the nannys in my game never staying fired?
Well, she is a different one. Maybe she's not as stupid as the last one. Oh, Please don't let her be that stupid!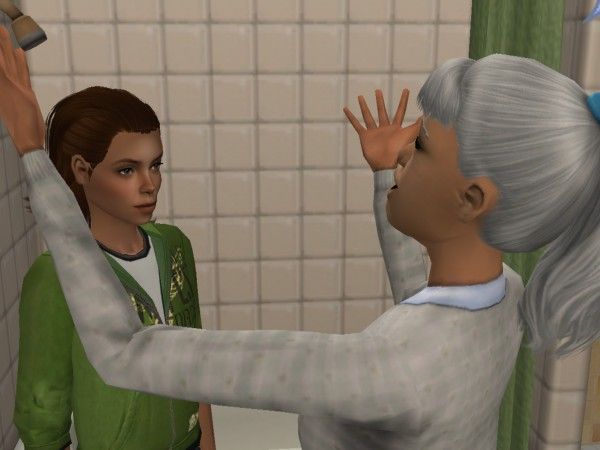 The first thing she does is corner F'lar in the bathroom to talk about camping.
F'lar:"Ooo, tents and cold and bugs! No thank you! I'd rather play a good game of catch!"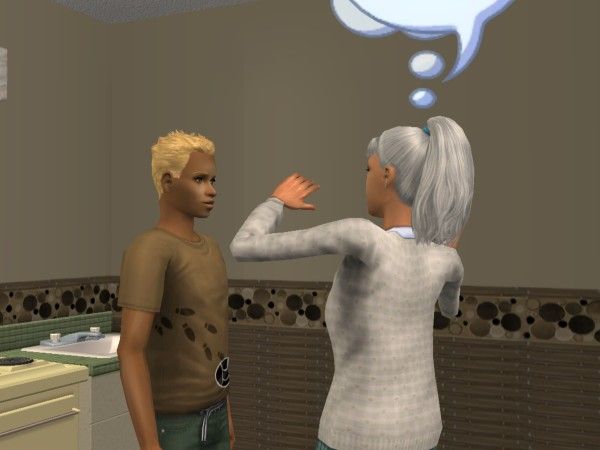 So she goes and tries talking to Kent about camping.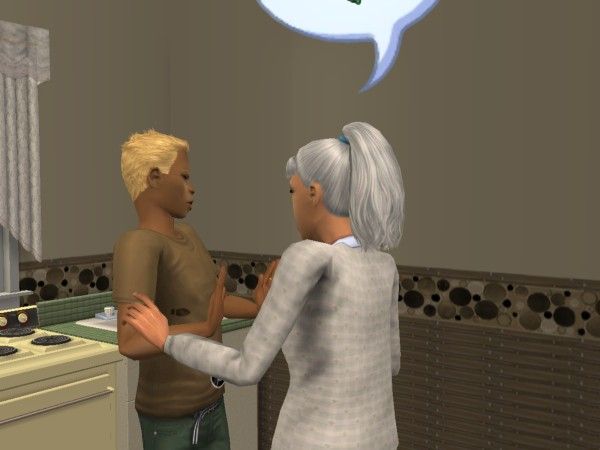 Kent:"Please, I've got enough on my mind without listening to your crap, okay? Just leave me alone."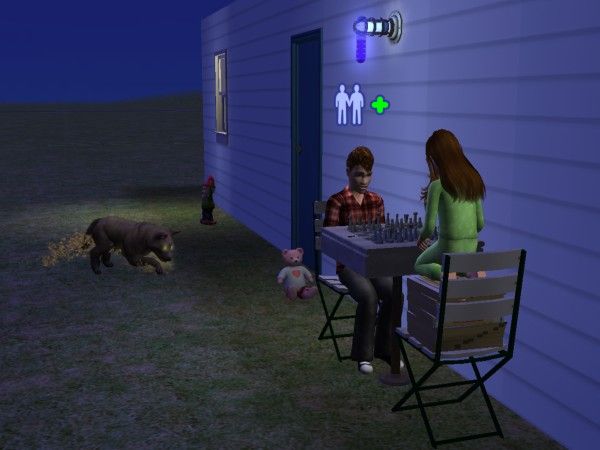 F'nor and Brekke are outside playing chess in the dark. F'nor has played enough that the hobby guy arrives.
In the meantime the LOTP is digging a pit trap just outside the door. Really, wolf?
Super Secret Gamer Guy: "Hello there, young man! I'd like to invite you to my Super Secret Gaming Lot! But you can't tell anyone else 'cause it's a secret, okay?"
F'nor:"Ah, sure, I guess."
SSGG:"Great! See you there sometime!"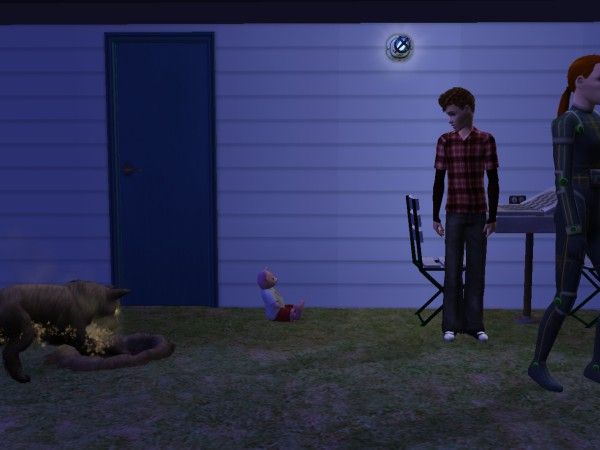 F'nor: "How come my brother got a hot babe and I get...that?"
LOTP:
*How should I know, kid? I'm too busy digging this hole.*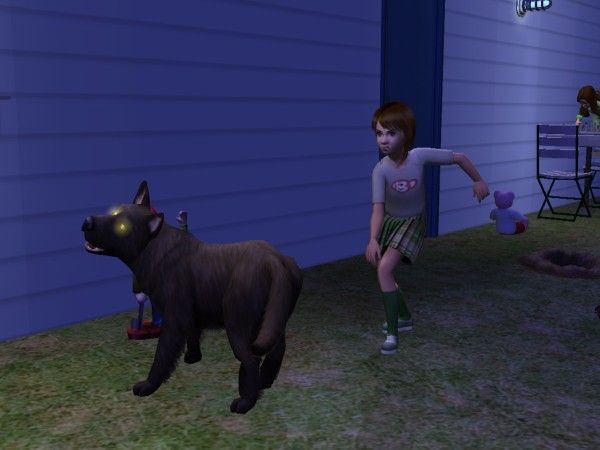 Brekke manages to distract the LOTP from his hole digging by offering to play fetch with him.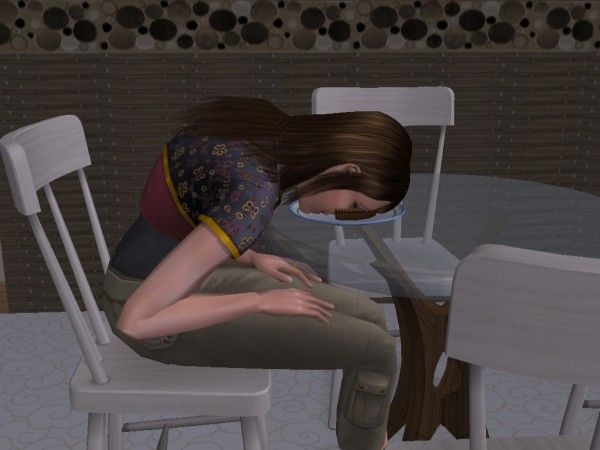 Poor Gloria! Between working at her job everyday and then staying up late to try to get the kids through their homework she's exhausted.
WAKE UP, GLORIA!
"Uh? What?"
"Ouch, I've got citrus juice up my nose."
Try not to fall asleep in your food next time.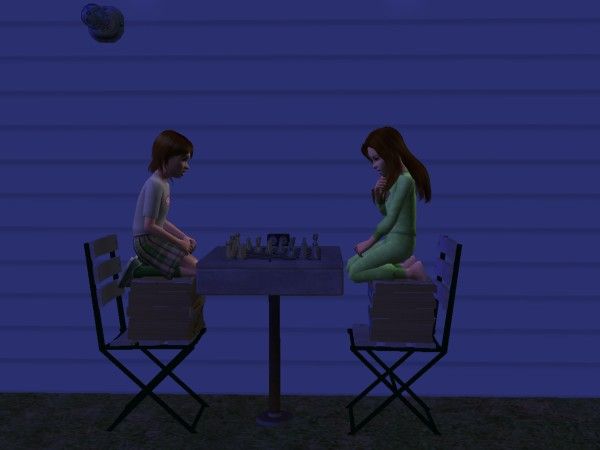 The girls are studying, just not the kind of studying they need to be doing.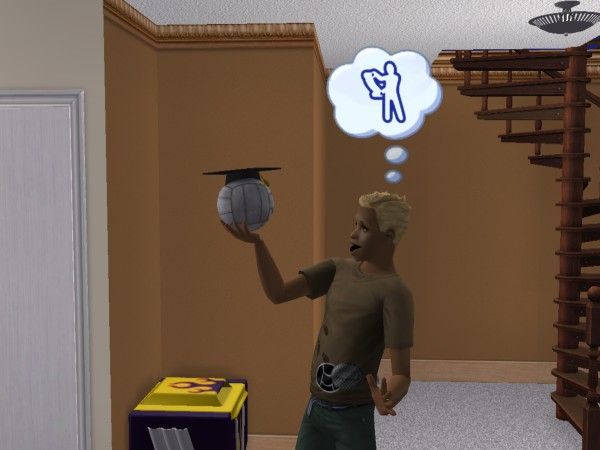 Kent's doing really well this fine morning!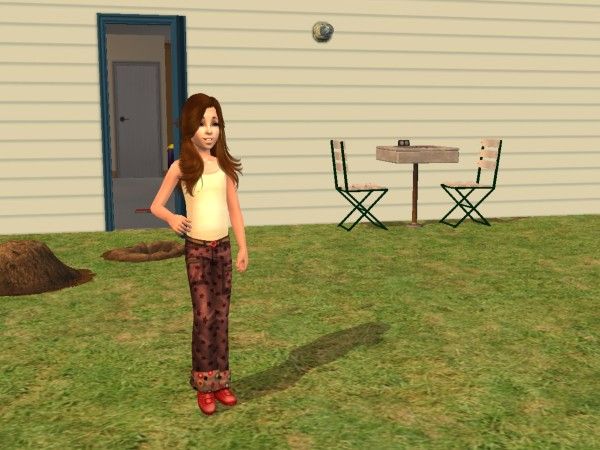 Despite only getting a few hours of sleep both girls managed to get on the bus and go to school this morning.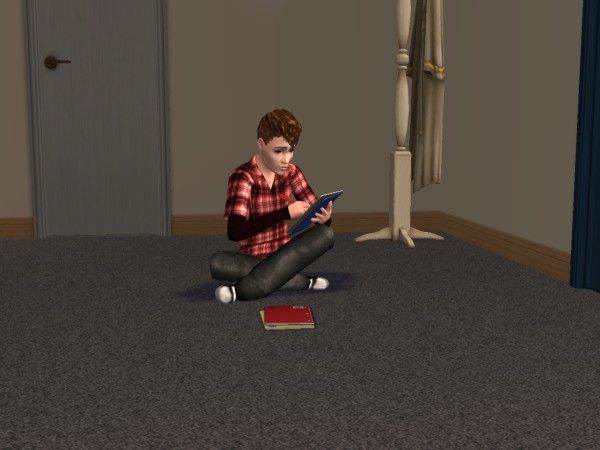 When he got home F'nor's teen command was used to get him to finish up his homework. He's got to have the worst grades of all the kids.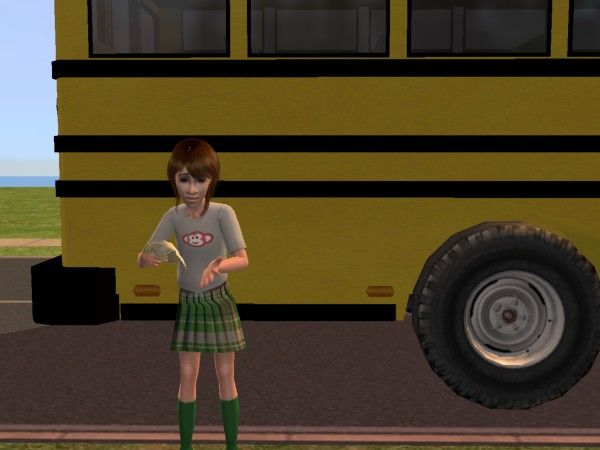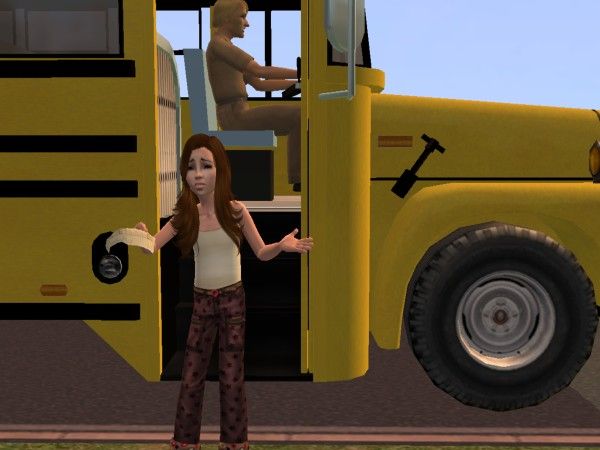 Both of the girl's grades are going up but you'd never know it by the looks on their faces.
Menolly runs outside to give her father a hug when he gets home. Aww!
Kent:"Hey, congratulations on having two best friends, sweetie, even if they are both family!"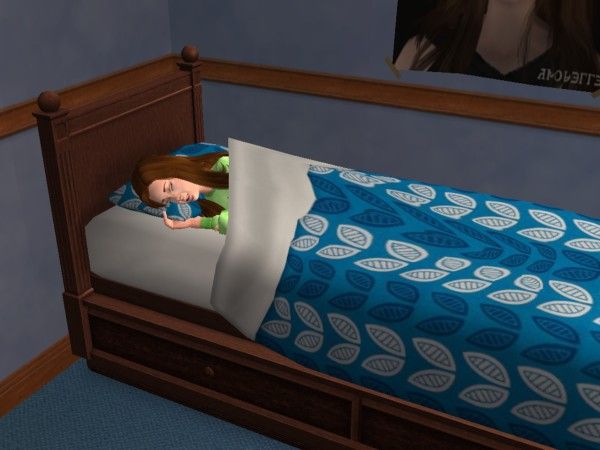 And shortly after that both girls wind up crashed out in the boy's bedroom. Great! That probably means they'll be awake most of the night again! GRRRR!
These kids smustle so much they even smustle when the radio is Turned Off!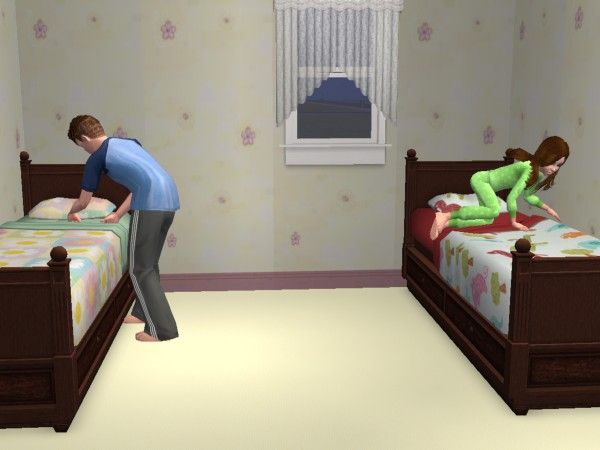 F'nor is just getting up for the day and Brekke is just heading to bed. Man, I wish these kids would get on more decent schedule!
Kent! Don't break your sons neck! I haven't picked an heir yet! Can't you two do something not so violent?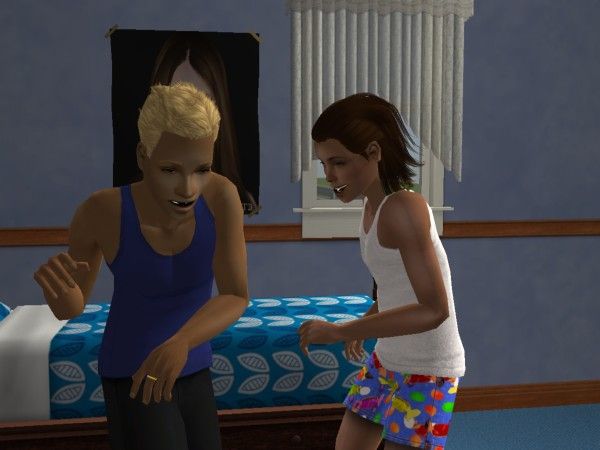 Well that's better...I think.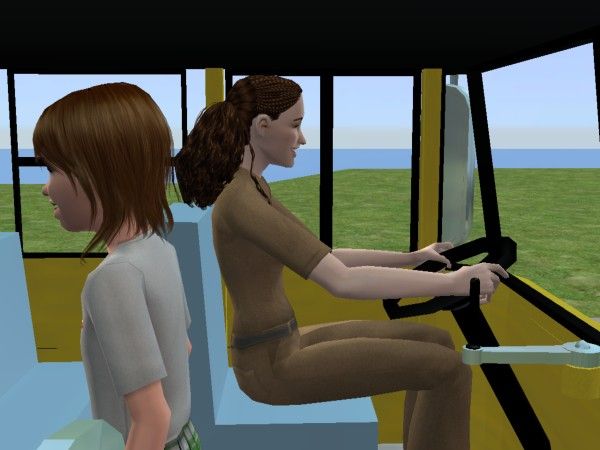 Hey, the kids got a new bus driver.
Bus Driver:"No, I've been driving this route for years!"
No, they had a male driver last time I rem...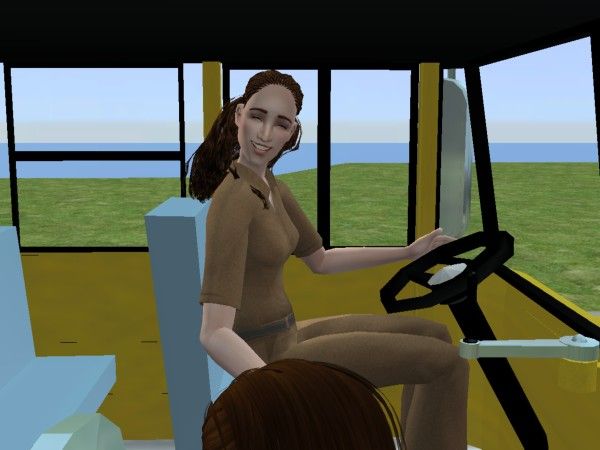 "For Years!" :D:D
Okay, have it your way! Creepy!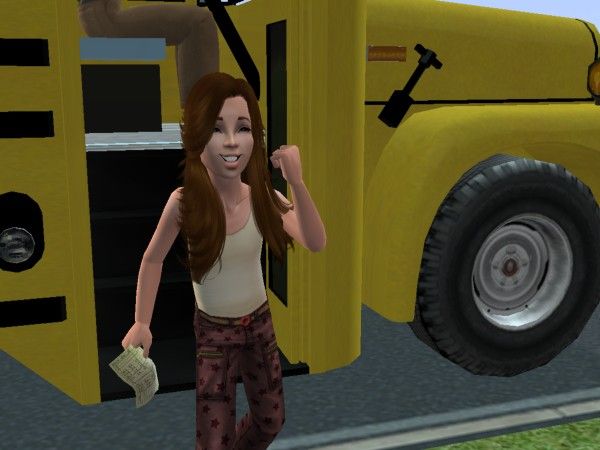 Finally, Brekke manages to bring home the allusive A+!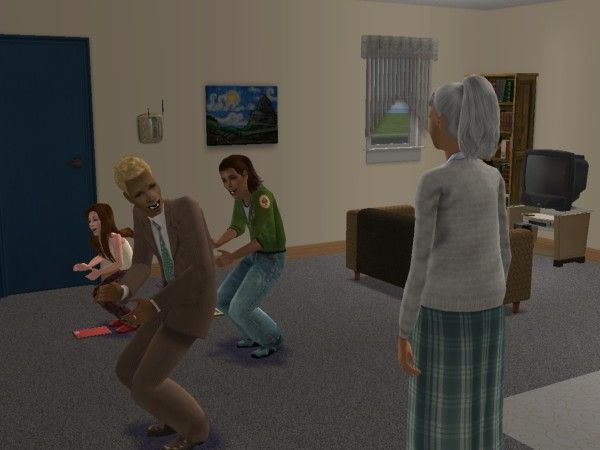 Kent:"This calls for a celebration! Everybody Smustle!"
Since when do you guys need a reason to smustle?
Kent:"Nanny! Come join us!"
"Oh, great! They're one of 'those' kinds of families."
If you mean they don't need you to make them happy, then, yes, they are.
Dammit, Kent, don't start this shit again!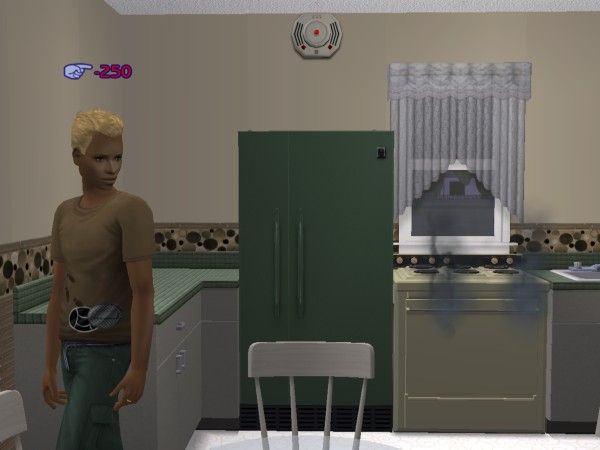 Get back to that stove! Where do you think you're going?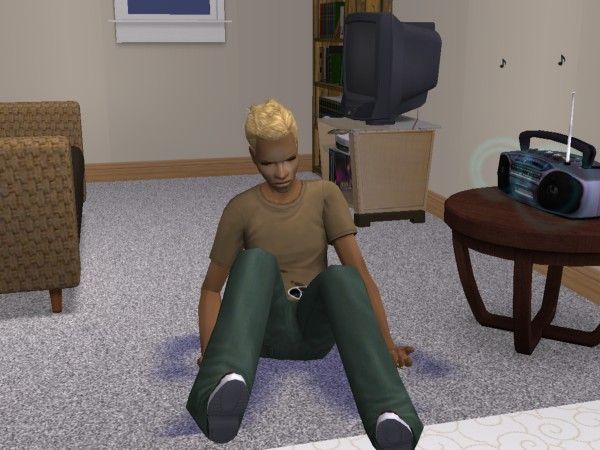 Oh, just great! Two in one update! Thanks a lot, Kent!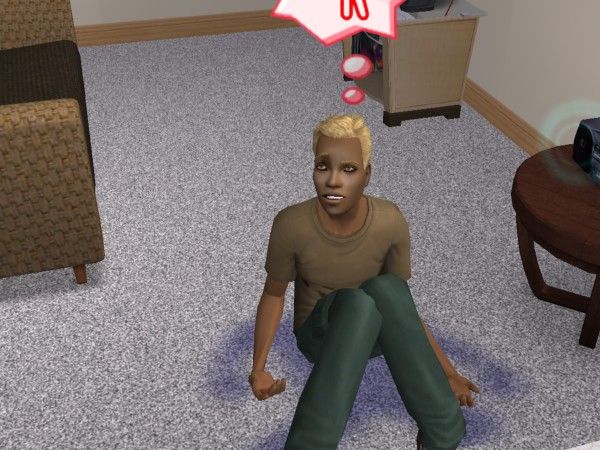 He's lost it big time now.
F'lar:"Hey, Mom, I think dad's gone completely cuckoo!"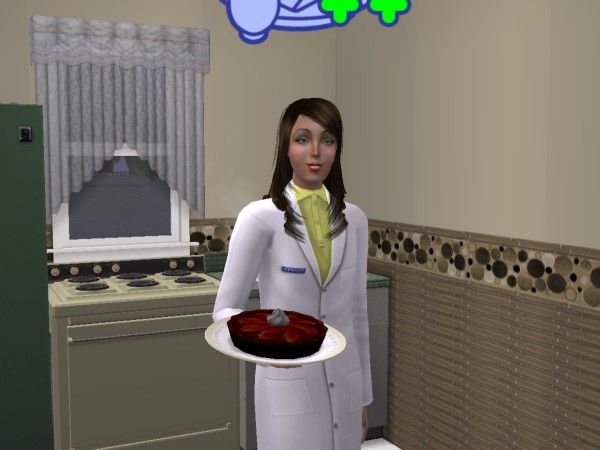 Gloria:"Now, don't make fun of your father, F'lar. He's been going through a lot of stress lately. It hasn't been easy for him."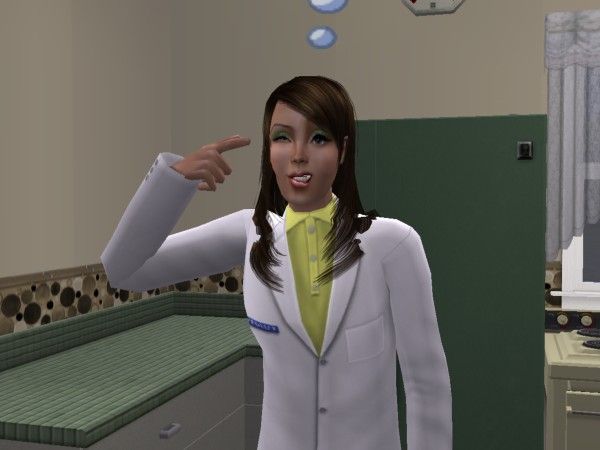 Gloria: "He is nuttier than a fruitcake, though."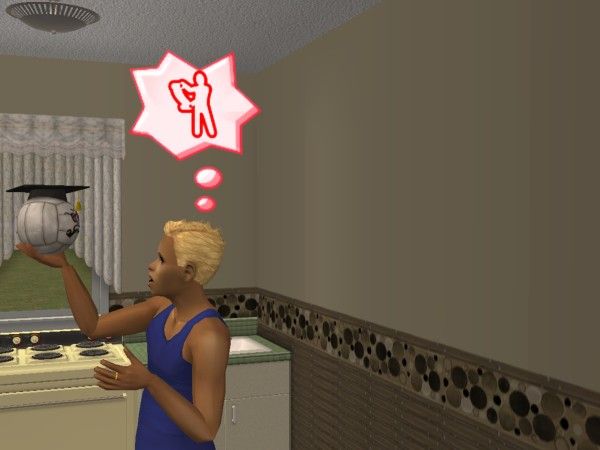 And here comes the volleyball again.
Kent: "Ooo! Ooo! I know! Pick me! Pick me! Pickmepickmepickmepickme!"
Kent has definitely tripped over that fine line of sanity and is on the other side for the moment.
It's Saturday and today is going to be Family Outing Day! Yay! Everybody will be going except Kent, who had to go to work.
Brekke: "Do we have to do this?"
F'nor: "Would you rather stay at home alone with the nanny, or, maybe with Dad while he talks to his volleyball?"
Brekke: "You're right, what are we waiting for!"
Well will you look at who's driving the taxi? Their ex-busdriver!
"Please leave me alone! I'll get a restraining order if I have to!"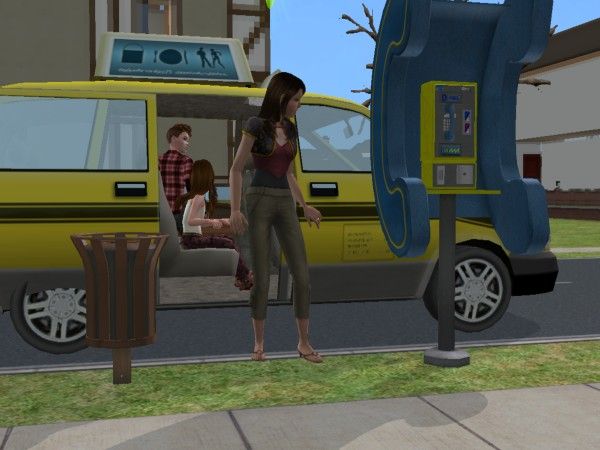 They decide to go to Central Park West.
Photobombing townies strike again!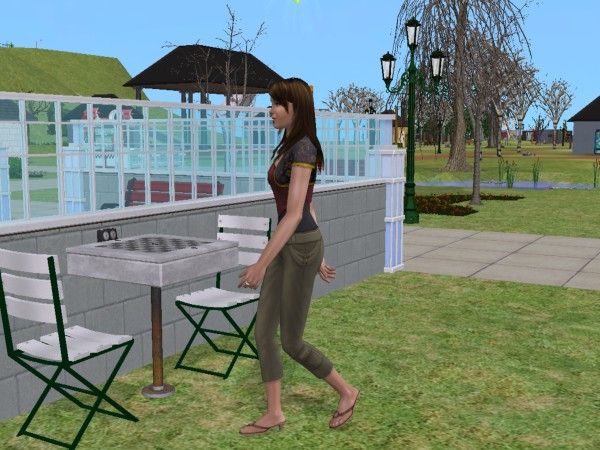 Gloria makes a bee-line for the chess table. Really?
"The kids are always using ours at home."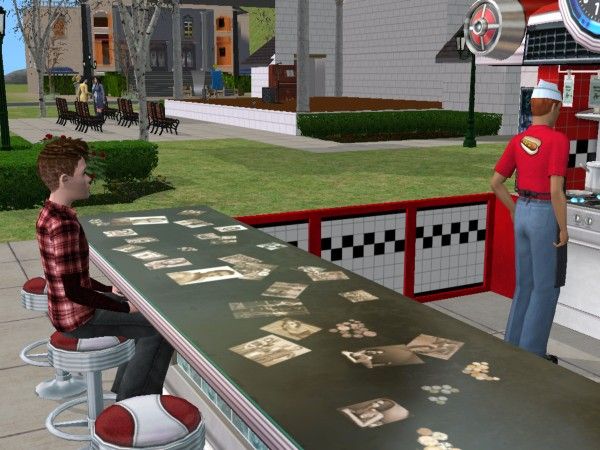 F'nor made a bee-line for the food stand. "Do you have any grill cheese?"
F'nor seldom thinks of anything else besides grilled cheese.
Of course the girls play catch together. To be fair there were no other children there to play with.
The game lag announces the arrival of a witch onto the lot. An evil witch. Just my luck. :/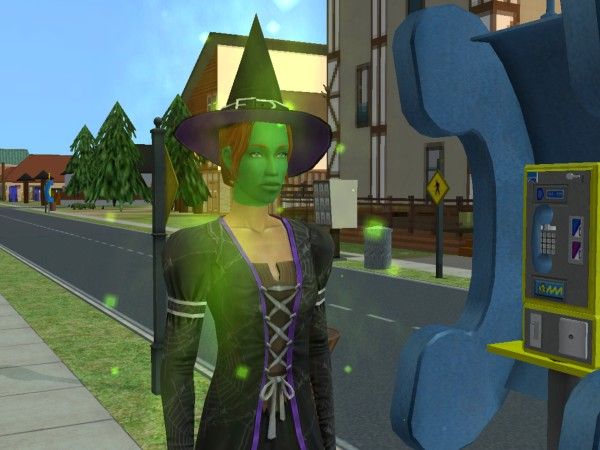 What the hell happened to my override for your face? It's not supposed to be that...green.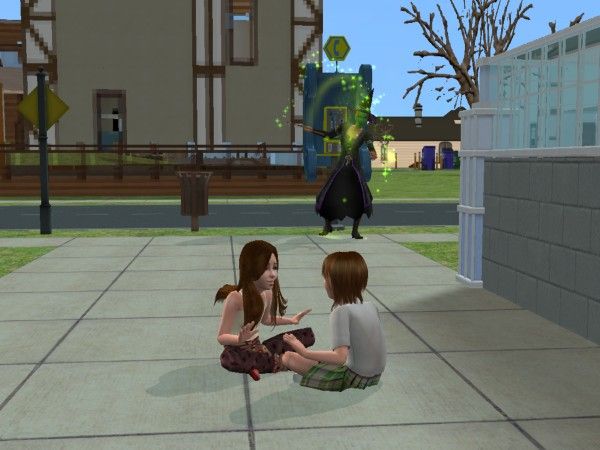 Ah, girls, this might not be the best time (or place) for a game of Mary-Mack. Girls?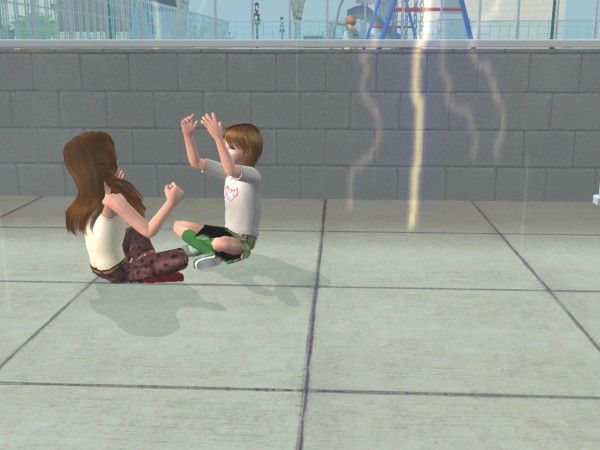 CRRAACK!
Shit! That is way too close!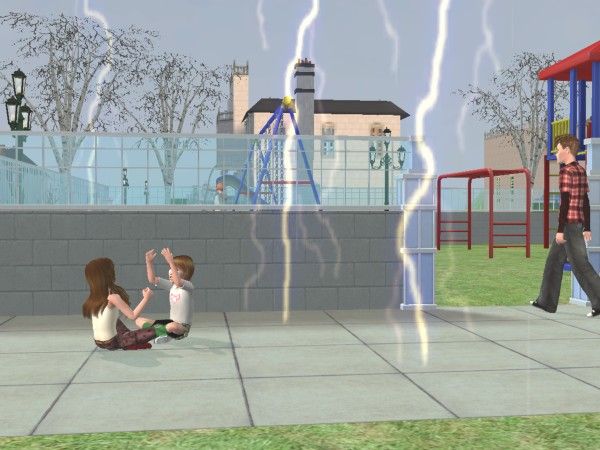 F'nor observes the lightening crash down so close to his sisters they should feel the electric charge.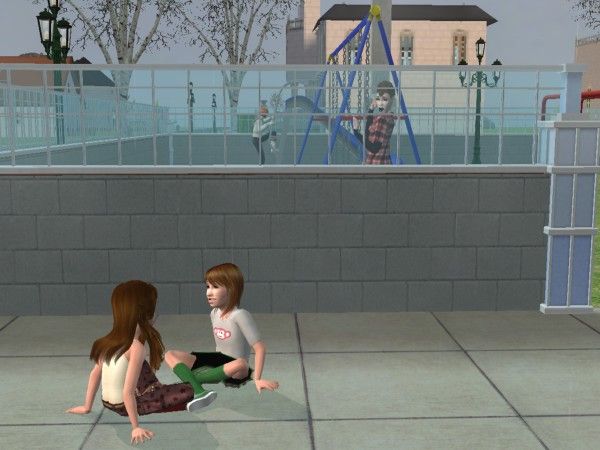 Thirty seconds later; "AAAHHH!"
Nice one, F'nor.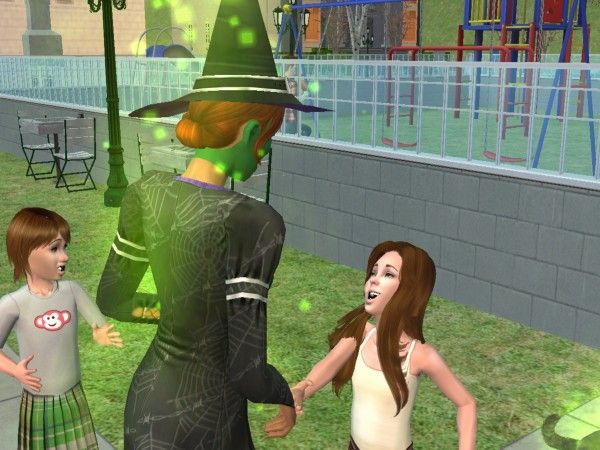 Brekke: "Hello there, Miss! My name is Brekke Tattersal and I'm happy to make your acquaintance."
Menolly: "Uh, what are you doing, sis?"
Brekke: "Being friendly, what's it look like?"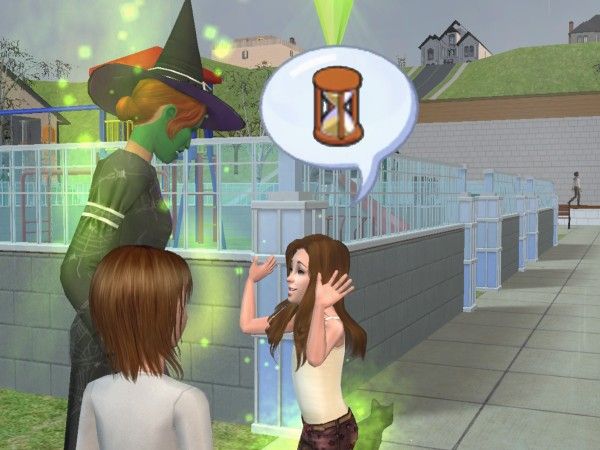 Menolly: "I think we should go find Mom now."
Brekke: "See I was wondering if you carry any business cards or something 'cause I'm one of four kids in a legacy family and if things don't go well for me I may want to look you up in a few more years. Think you can help me out?"
Evil Witch: "..."
(I didn't write her name down. :) )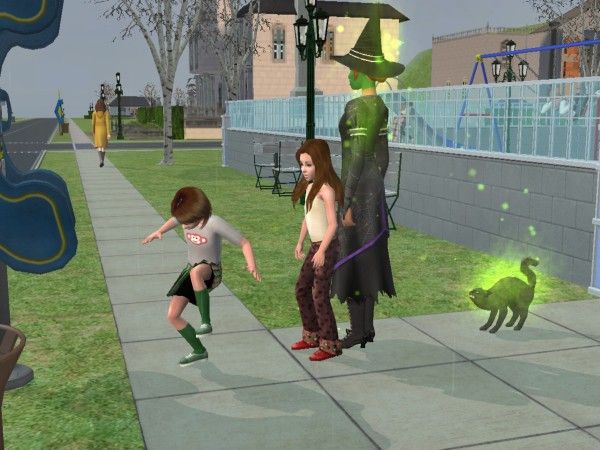 Menolly: "Ah! Roaches!" I find the evil witches rather annoying because of this.
While the girls chat it up with the witch F'lar has found someone his own age to talk to.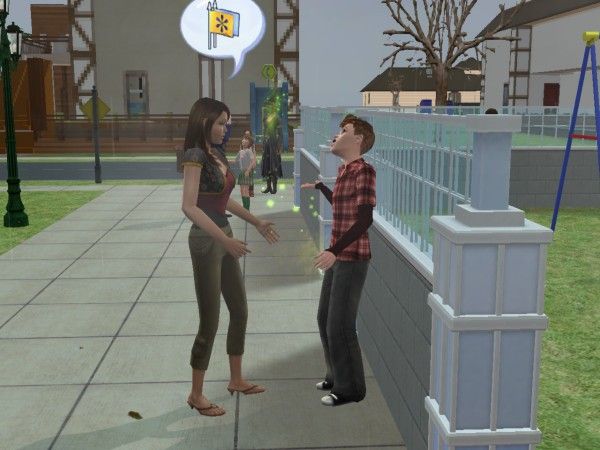 Gloria, meanwhile, shares a joke with F'nor.
It's getting late so they leave the park. They have one more stop to make before heading home. The Grocery store to pick up some more food.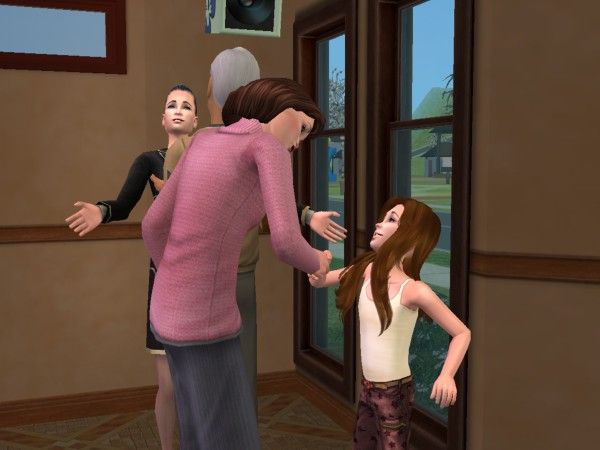 Brekke is really not clear on the concept of "stranger danger" as she introduces herself to every person she sees.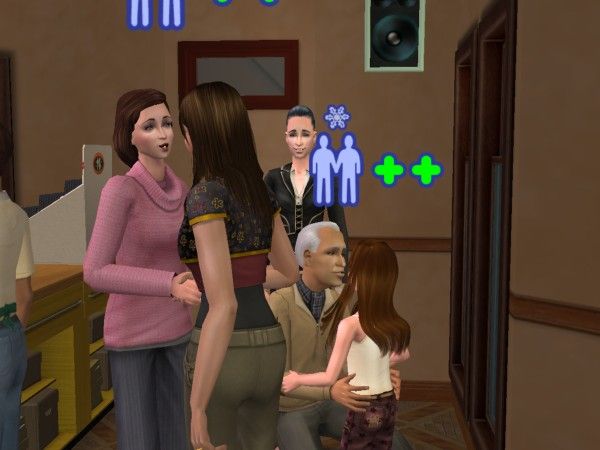 AHH! GLORIA! TURN AROUND! CREEPY OLD MAN ALERT BEHIND YOU!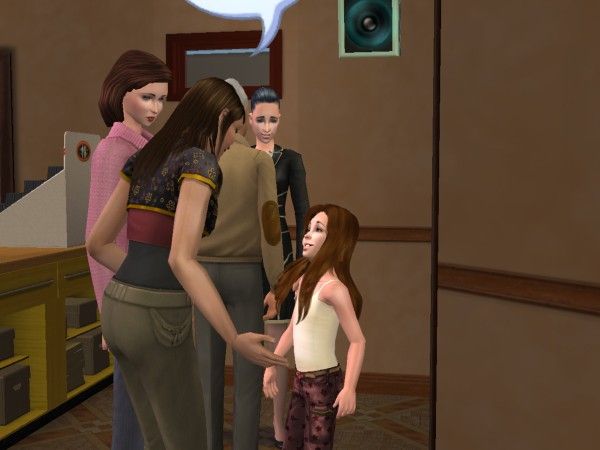 Gloria: "Brekke, what are you doing?"
Brekke: "Nothing, Mother, why?"
Gloria: "I just got this strange feeling is all. You alright?"
Brekke: "Yes, I am. Can we get some peanut butter?"
The other kids are staying occupied.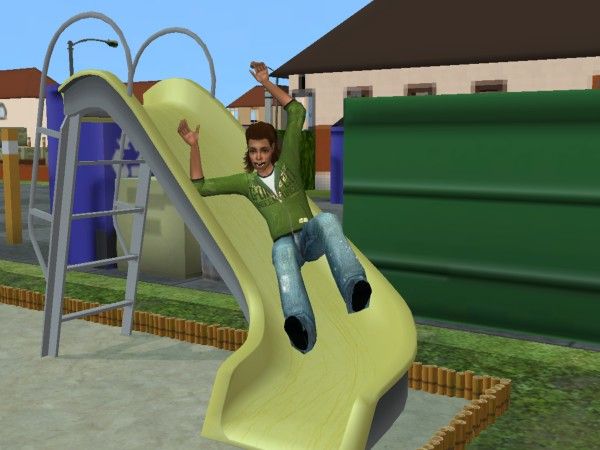 "Wheeee!"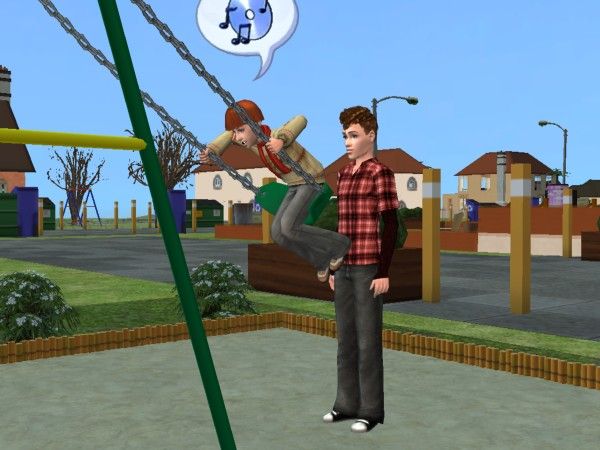 F'nor finds a younger child to interact with.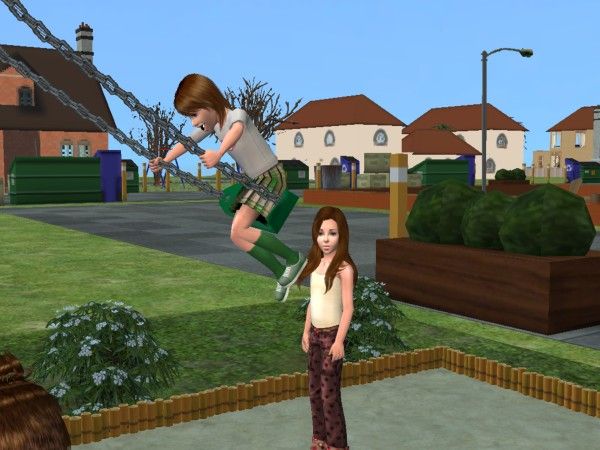 I'd be careful how close you stand there, Brekke. If Menolly swings back far enough you could lose your teeth.
"Nonsense! Menolly would never hurt me. I'm her sister."
If you say so.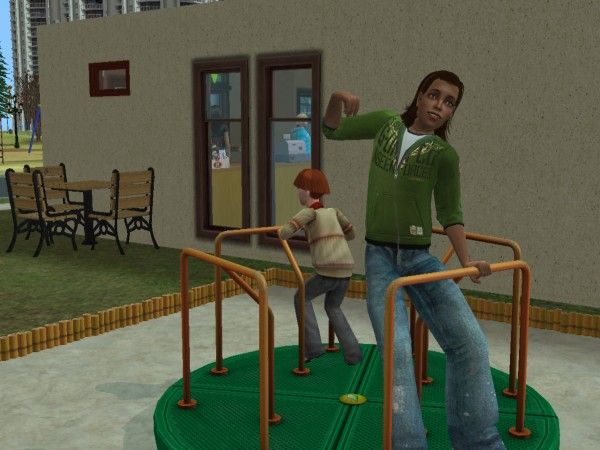 F'lar made the best use of the playground equipment.
F'nor just chilled on the swing with Menolly.
As the sun began to set it was time for the family to head back home.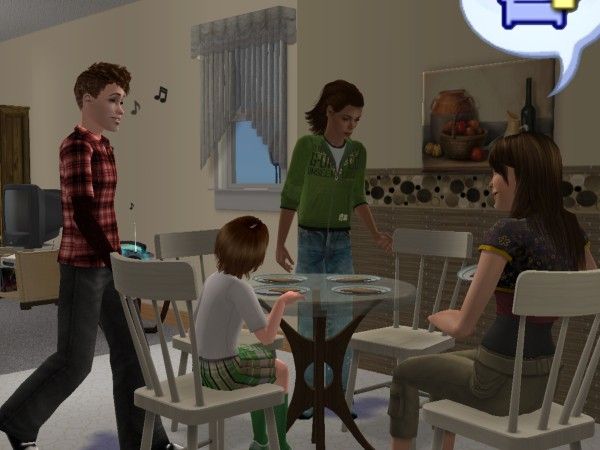 Once back at home the family sat down to a nice meal of toaster pastries! Yum!
Kent comes home and lets me know he thinks this past week has been terrible. Yeah, two breakdowns in as many days will do that to you. Of course, standing around with you feet in that position isn't doing much to make the next week any better.
After having spent the day with her kids, Gloria now spends some time with her hubby.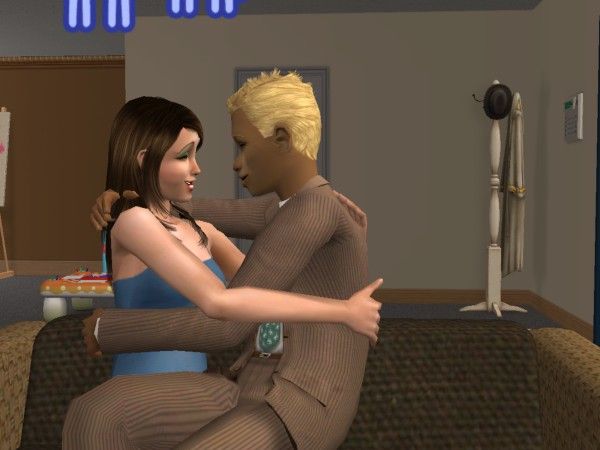 Now if only he had a want for stuff like this he might just pull himself out of his slump.
Then there's always his boys to play punch me, punch you with.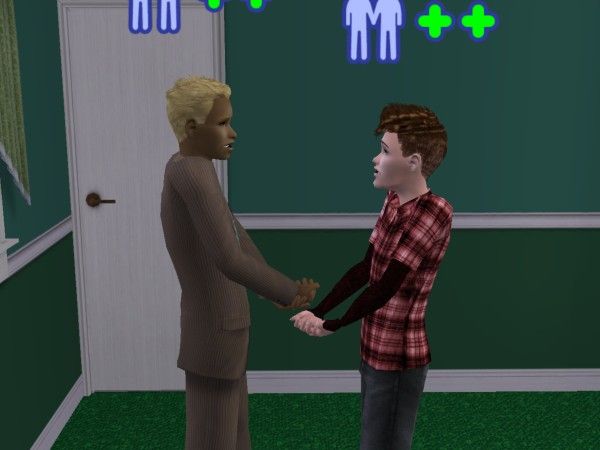 Kent and F'nor: "Ow, my hand!"
LOL at the simultaneous wrist pain!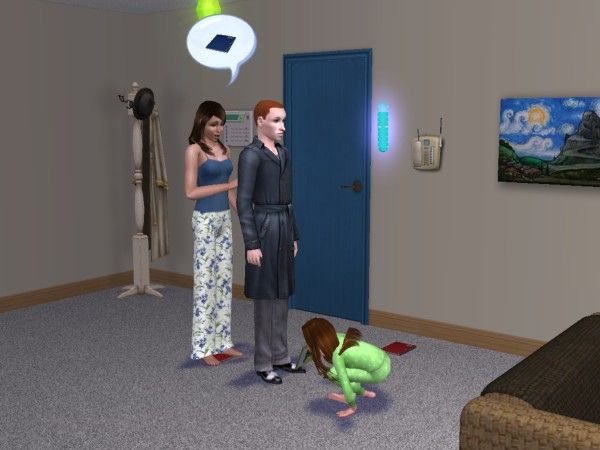 Again with the fucking hobby people interrupting homework!
UHP: "Hello there, little girl! A little bird told me you really like games! We hope to see you on our super secret hobby site one day. Just show this card at the door.
How secret can it be when most of the family have been visited by you by this time?
Gloria: "I'm getting really sick and tired of these stupid people just barging in!"
You and me both!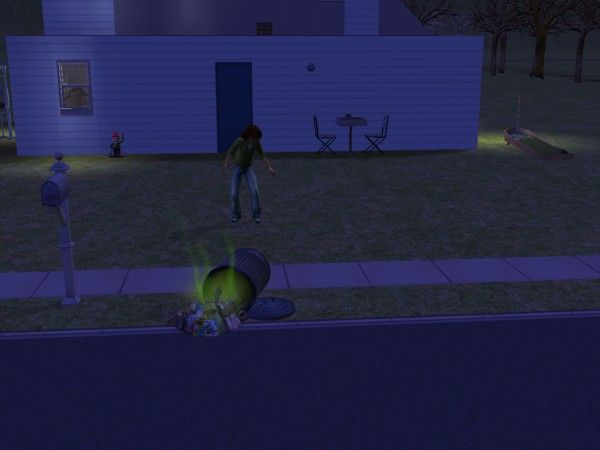 Aw, crap! Who the hell knocked the trash can over?
F'lar: "AH, roaches! Dammit, dammit, dammit!"
F'lar: "I can't stand roaches! Wahh! Now I've got roach guts on my shoes!"
Kent: "Don't worry, son, I've got this."
*proceeds to spray the hell out of the roaches and F'lar's feet*
F'lar: "Do you mind, Dad? I'm trying to angst here."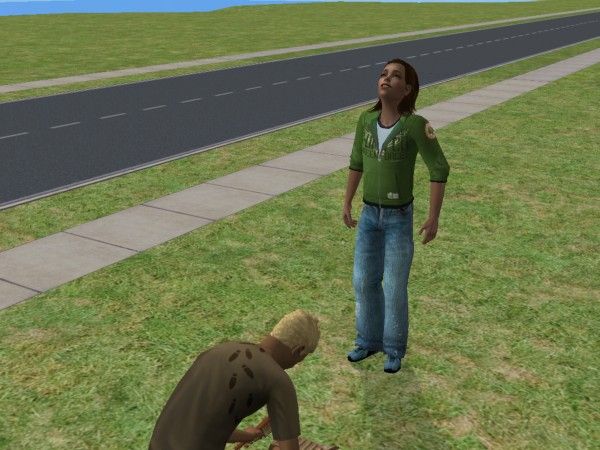 Considering the amount of poison your father just sprayed all over I don't know if taking a deep breath right now is such a good idea. Although it didn't cause him any aspiration point loss I'm sure the fact that there are roaches around again are not doing him any good.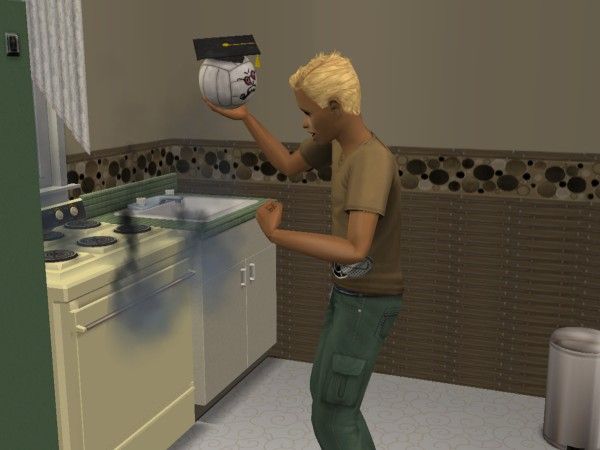 DAMMIT, KENT, PUT THAT FUCKING BALL AWAY WHILE YOU'RE COOKING!
Kent:"Oh, why do I keep burning these?"
Maybe if you try paying attention instead of playing with your Wilson-ball this wouldn't keep happening. Either that or stick to fixing salads.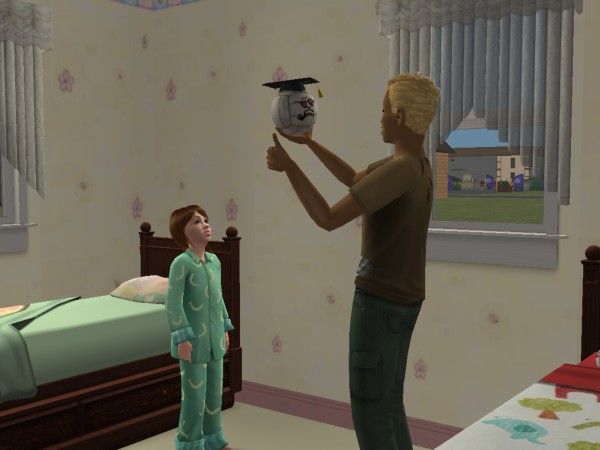 Kent to his all-knowing ball: "I don't know what I'm doing wrong! I've mixed the ingredients well, I check the oven temp...
what am I doing wrong?"
Menolly: "Mo-om! Dad's talking to his ball again!"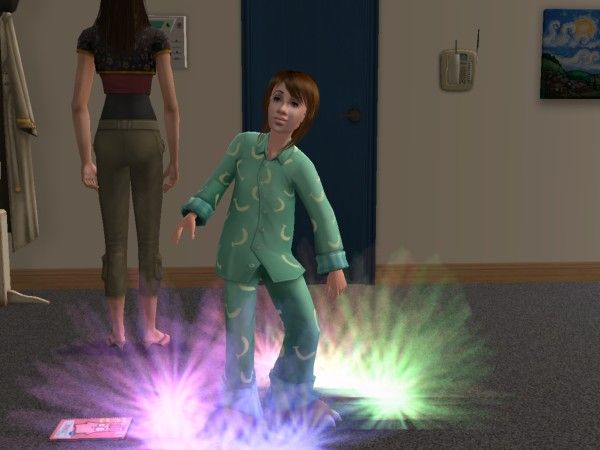 It's transition time for the girls! Yay!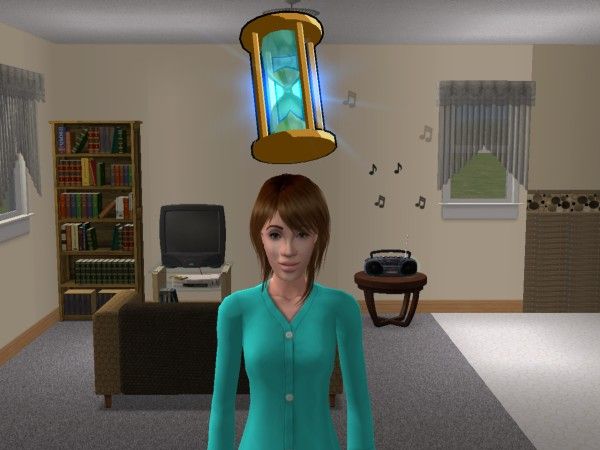 Teen Menolly.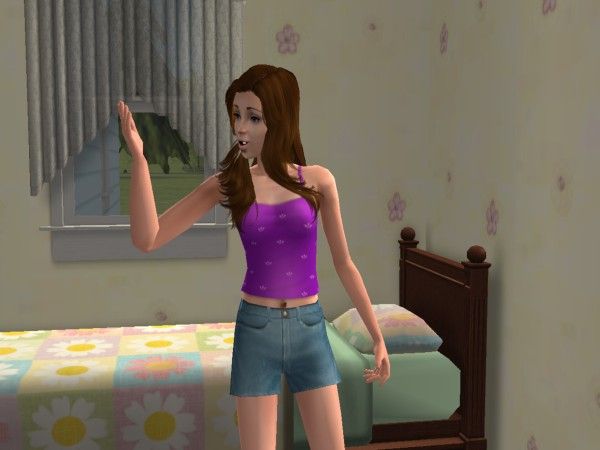 And teen Brekke.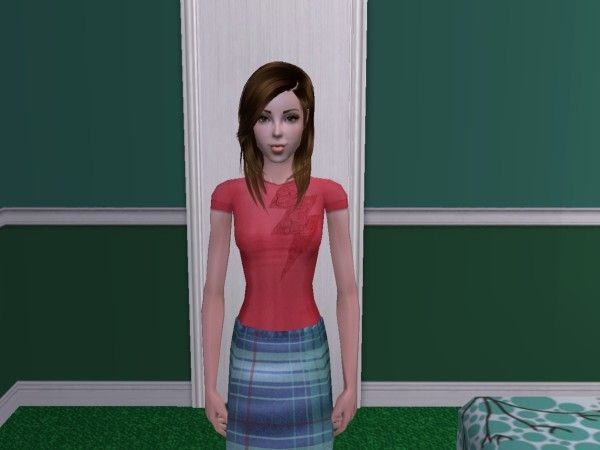 Brekke after a makeover and a change of clothing.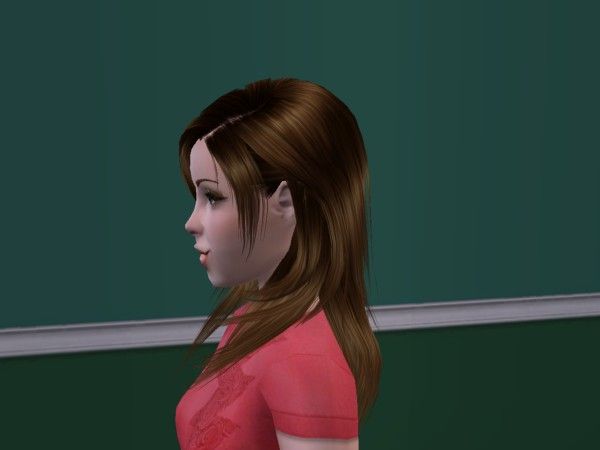 She's definitely got her mother's mouth and nose.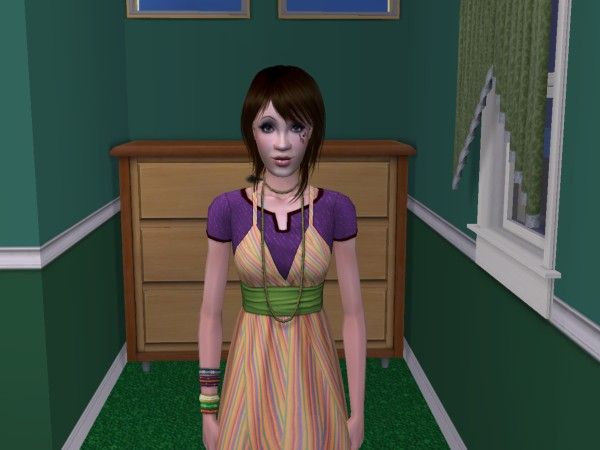 Menolly after a makeover and change of clothing.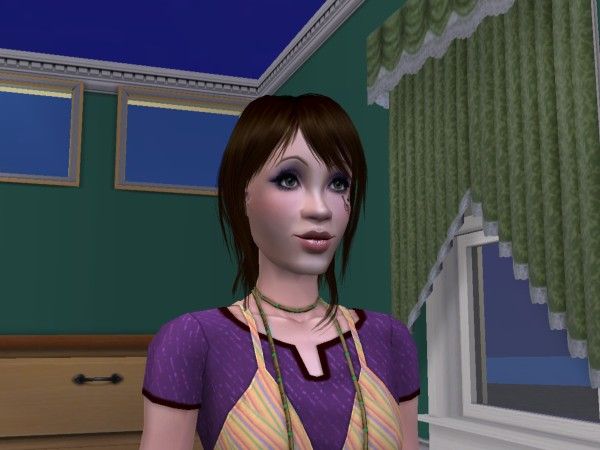 She got a lot of Kent's genes but she's got Gloria's chin I do believe.
Once again, F'nor has cooked a meal for the family, only this time he cooked spaghetti instead of grilled cheese.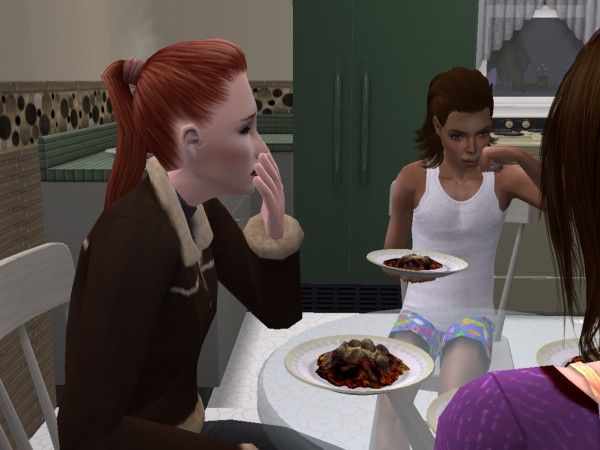 Maybe he should stick to grilled cheese after this. That's nasty looking!
Townie:"It's pretty nasty tasting, too! *Gag*!"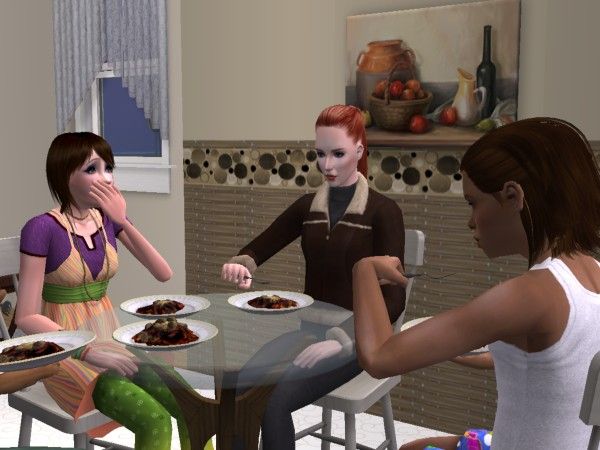 Menolly: "Oh, my taste buds! They're dying!"
Everyone who wants F'nor never too make this meal again, let's see a show of hands!
Brekke: "Congrats on having three best friends, sis, even if they are family!"
Menolly: "Are you trying to mock me? You don't know anybody that I don't know!"
Brekke: "Don't bet on that!"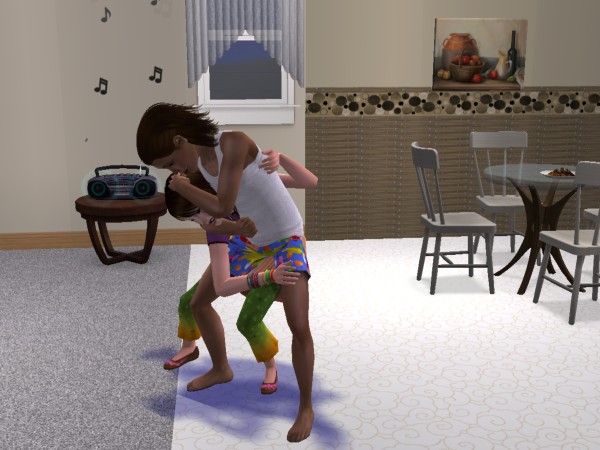 Noogie Time! Someone had to do it I suppose.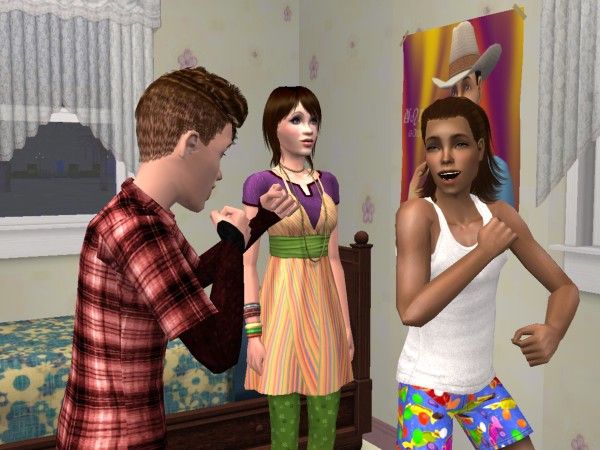 The boys then go off and play punch me, punch you while Menolly looks on.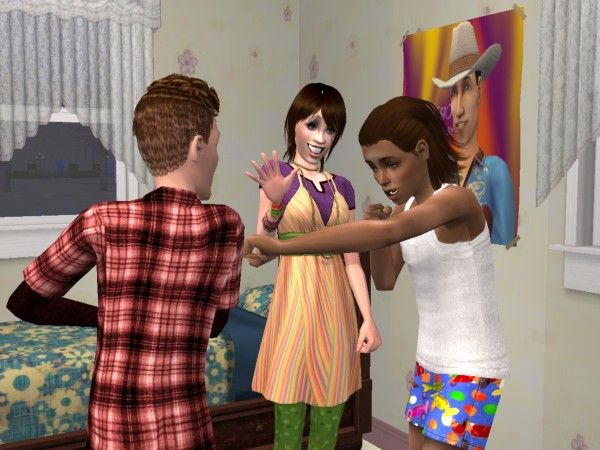 Menolly: "Hi, guys!"
:DD
You're trying too hard there, Mel, dial it back a little.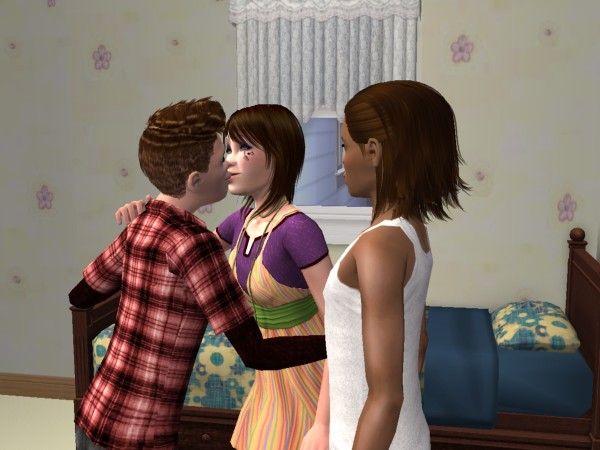 I was going to make a comment about creepy family kisses, but, upon reflection about who Brekke has decided to kiss in a 'friendly' way, maybe it's not so bad!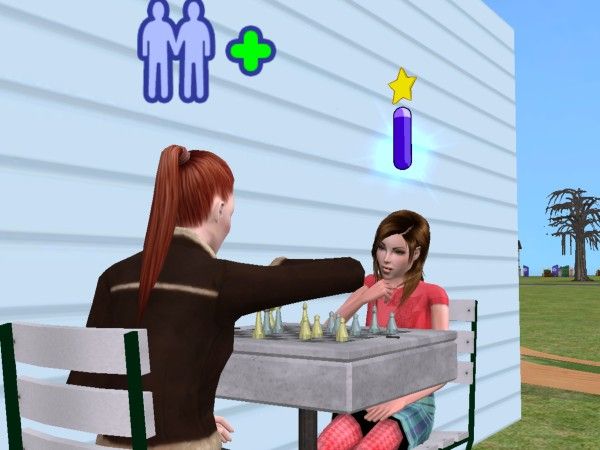 Speaking of Brekke, she literally stayed up all night playing chess with the townie visitor and it paid off!
She maxed her logic skill!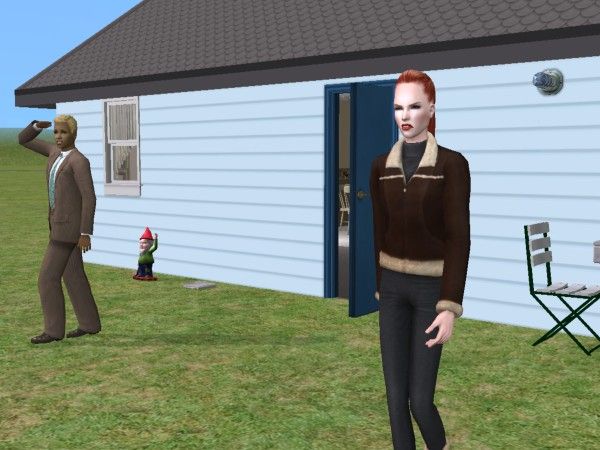 Townie: "Oh hell! Everyone's leaving! They have places to go. I'm sure you do too!
Finally! F'lar manages to get an A+ report card!
Both the boys brought girls home with them from school. Now, the big question will be, will they actually spend any time with them?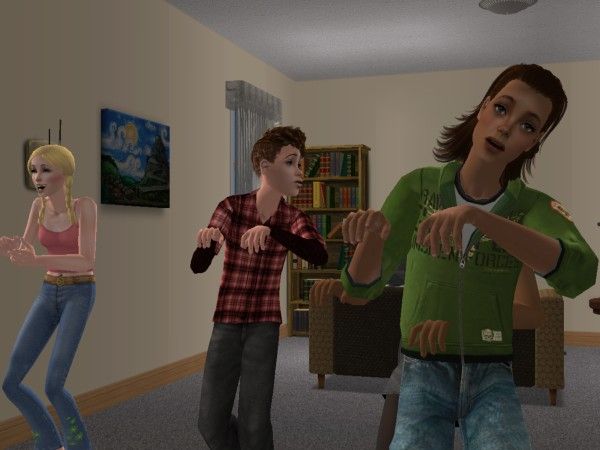 F'lar seems to be 'getting close' to his chosen girl. Perhaps a bit too close.
"Ow! My spleen!"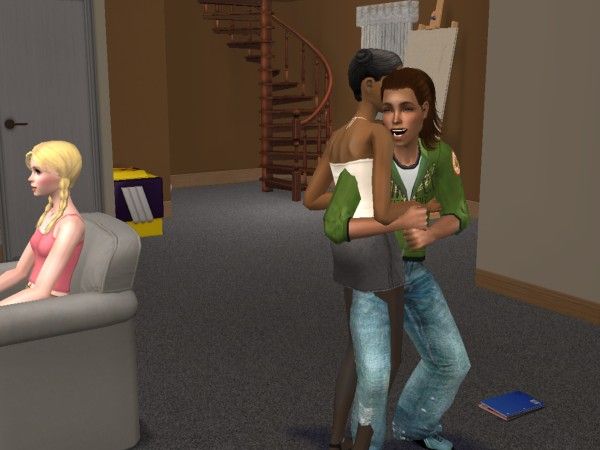 It was bad enough when they were dancing in unison but now that they're out of sync, it's worse!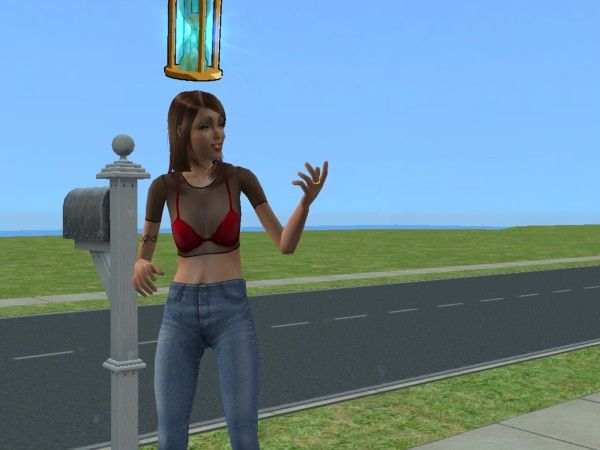 Gloria came home and transitioned into an elder! Great clothing choice there! Gloria's going to take on a second job, Street Walker! LOL!
Photbombing townie: "Whoa, I wouldn't mind a piece of that action!"
Keep walking, creep, keep walking!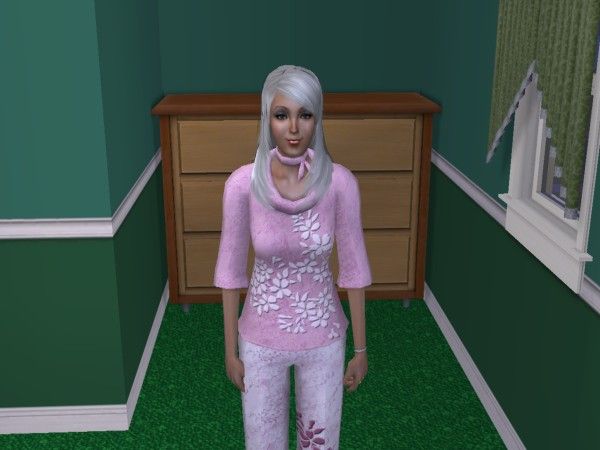 There, that's better.
Gloria: "It's rather pink, don't you think?"
It may be pink but at least it matches. Do you really want to wear something that screams "street walker"?
Gloria: "Point taken."
I think she aged rather well although I wish it wasn't so soon!
And that about ends this update. I leave you with this parting note...
Kent has not slept in bed with his wife since the birth of the girls!
Torch Holders-1
Perma-platinum sims-0
Shrink visits-
2
Social Bunny visits-0
Social Worker Visits-0
Accidental deaths-0
Fights-0
Pass outs-
2
Self wettings-0
Fires-1
Special tombstones vs total-0
</lj_cut>